Yakima HangOver 6 Bike Rack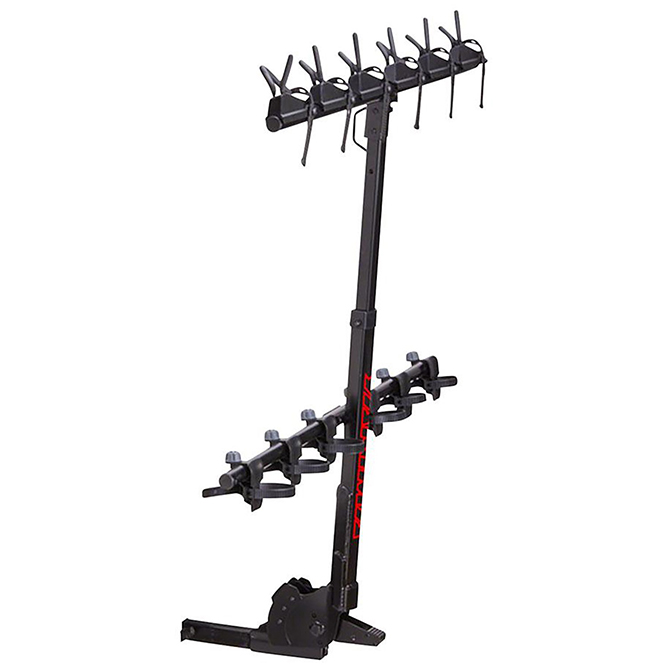 If you want to shuttle rugged roads with all your friends, the Yakima HangOver is the perfect choice. The Hangover fits 2" hitches, and carries 6 bikes vertically. This means it only sticks out from the back of your car as far as a two bike tray rack. It's overbuilt and sturdy, so it can handle heavy bikes and rough terrain without issues, and holds bikes very securely without any rubbing. It's also adjustable both for height, and angle, so it works with a wide variety of vehicles, including trucks, SUVs, and vans.
However, you do have to lift your bike all the way up onto the rack, which can be harder for shorter people with heavy bikes, and it only works with bikes that have suspension forks, so you can't haul road bikes. One bonus for the Hangover is that it works with just about any tire diameter, and bike size. The rack also can tilt down out of the way so that you can access the back door of your vehicle. The Yakima HangOver is our top choice for anyone who's looking for the best mountain bike rack with maximum capacity with minimum hassle.
| | | | |
| --- | --- | --- | --- |
| Rack Type | Wheel Size | Capacity | Price |
| Hitch - vertical hanging | Any must have suspension fork | 6 bikes | $799 |
---