Bike Helmet Sizing & Fit
Whether you're a casual recreationalist who enjoys cruising into town on your singlespeed or an enduro athlete gearing up for your next off-road adventure, a bike helmet is a necessary accessory. Thanks to recent innovations in helmet design, bike helmets have gotten lighter, more comfortable, prevent an increasing amount of head injuries. The trick is you've got to be wearing one for it to do its job (kind of a no-brainer)! Read on to find the helmet that's right for you, as well as how to dial in the perfect fit.
Measure Your Head
Take a soft measuring tape and wrap it around your head about one inch above your eyebrows and ears. Make sure the tape is level. Most helmets are measured in centimeters, so measure your head in centimeters if you can. In case you don't have a centimeter tape, the conversion ratio is 1 inch = 2.54 cm. Then, choose a helmet size to match your measurement.

Don't have a soft tape measure? Take a piece of string and wrap it around your head, then measure the string.
Try it On
After you receive your new helmet, put it on. The helmet should sit level on your head. The front of the helmet should sit one inch (or less) above your eyebrows, protecting your forehead. Adjust the fit using the helmet's retention system (located in the back, usually a click wheel or a ratchet system). The helmet should feel snug. You don't want any excess space between the helmet and your head. Pay attention to any pressure points as they may be an indication that the helmet is too small.
Buckle Up
Connect the chin strap and tighten it so that it's snug but comfortable beneath your chin. You should be able to fit no more than one finger between the strap and your chin. The straps should form a "V" as they rest under each ear. With the chinstrap buckled, open your mouth wide. You should feel the helmet press against the top of your head.
Shake Test
Push the helmet from side to side and back to front. If the helmet shifts noticeably, try adjusting the helmet using its retention system. The helmet shouldn't be able to move more than one inch in any direction during the shake test once you've dialed in the perfect fit.
Ready To Ride
Bike helmet straps can loosen on rides and during travel. Give your helmet a quick shake test before every outing. Then you're ready to ride!
What about kids' helmets?
All of the same rules described above apply to kids' helmets. However, fitting kids for helmets can be more difficult because they don't know exactly how to describe to you how snug their helmet feels. Be sure to pay extra attention to how snug the helmet is and if your kids complain about anything that hurts. Do not size a helmet with room to grow; if it is too large it is unsafe.
Helmet Styles
Not all helmets are created equal. At evo, we carry a variety of helmet styles to meet the needs of riders from the committed commuter to the downhill enthusiast. Road/commuter bike helmets tend to be lightweight and aerodynamic, and feature larger vents that provide cooling for long distance rides and hill climbs. Mountain bike helmets tend to feature additional protection for off-road use, especially in the back-of-head area where they're engineered to provide protection from a backward or sideways fall. These helmets may feature thicker chin-straps and often include visors, lending protection from the elements (plus they look rad).
Are you an avid trail rider who wants to dabble in the peloton? Your mountain bike helmet can often double as protection on a road ride. At the same time, if you're an avid roadie who wants to hop on the trails, it's a good idea to opt for a burlier mountain bike style helmet with protection where it matters most.
Shop Urban/Commuter Bike Helmets Shop Mountain Bike Helmets
Half Shell
Half shell helmets are by far the most prevelant helmet style on the market today. Half shell helmets come in a range of options in terms of coverage and design – from minimalist, lightweight models with lots of venting, to burly offerings with ample coverage for off-road exploration. Roadies and commuters are likely to prefer half shell helmets with added ventilation and less coverage in the back-of -head area, while mountain bikers will gravitate toward half shell "plus" styles with bonus protection in the back-of-head, temple, ear, and/or jaw areas for extra protection on the trail.
Helmet Construction
It is important to understand the way a helmet is built in order to understand the often very different prices, styles, safety certifications and materials used. Bike helmets are made up of three main parts: a Shell, a Liner, and Straps.
Shell
The shell is your bike helmet's outer layer—the part that people can see when you're riding. It's typically made from an impact-resistant plastic or composite and is designed to spread the force of an impact over a broader area, protecting your head in a crash.
Liner
The liner is located directly beneath the outer shell and does most of the work during a crash and is typically made from crushable or impact absorbing foam. During a crash, the liner absorbs the impact energy causing less of it to be transmitted to your noggin.
Straps
Made from nylon or polypropylene, straps keep your helmet attached to your head. Are your bike helmet straps fraying? It might be time to invest in a new helmet since your helmet can't effectively protect you in a crash without a fully functioning closure system.
Construction Types
There are two main construction types for bike helmets, in-mold and hard shell.
In-Mold
To create an in-mold helmet, steam and pressure are applied to fuse the helmet's outer shell with its foam liner in the mold. This creates a strong yet lightweight helmet. In-mold helmets tend to feature a thinner outer shell, meaning that the foam liner is more likely to deform when exposed to less force. This is actually a good thing! When the foam deforms on impact, it is absorbing the energy from the crash—and protecting your head.
Hard Shell
Highly durable and resistant to penetration, hard shell helmets feature a tough outer shell with foam adhered to the inside. Hard shell designs are frequently featured on mountain bike, hybrid, and skate helmet designs. Due to their thick outer layer, hard shell helmets are less likely to deform in a crash. That impenetrability is good– to a point. Though it may run counter to intuition, you actually want your helmet to deform a little so that it absorbs the impact during a wipeout.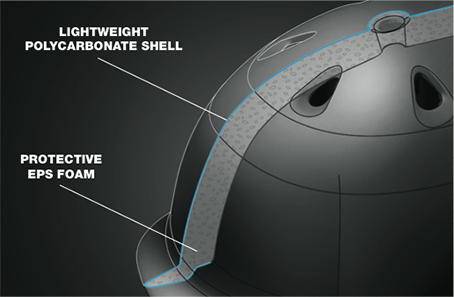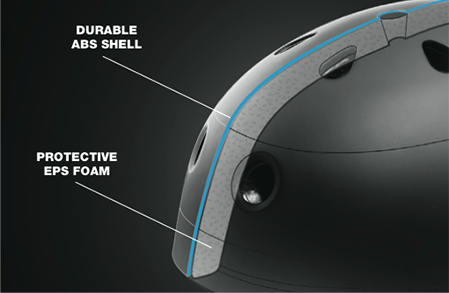 Helmet Materials Glossary
ABS (Acrylonitrile Butadiene Styrene)
Tough and impact resistant, ABS is frequently used to manufacture hard shell helmets. Did you play with Legos when you were a kid (or still do)? They're made from ABS too!
Aramid/Kevlar
The same stuff bulletproof vests are made of; aramid/kevlar can be used to augment bike helmets in strategic locations to ensure greater durability and protection.
Carbon Fiber
Extremely strong and lightweight, carbon fiber can be used to augment helmets while reducing weight. This can be especially attractive on full face mountain bike helmets that offer superior protection but weigh more than half shell helmets.
EPS (Expanded Polystyrene) Foam
EPS foam resembles the stuff old-school picnic coolers are made from. On impact, the foam gets crushed rather than your head. Unfortunately EPS foam is single-use--it doesn't rebound after a crash. That's why you should always replace your helmet after a crash.
EPP (Expanded PolyPropylene) Foam
More commonly used on ski helmets, EPP is similar in appearance to EPS. EPP is a multi-impact foam that recovers its shape and most of its impact protection after a crash. It costs more than EPS and usually results in a helmet that is a bit thicker than one with EPS.
Honeycomb / Koroyd Straws
Koroyd Straws offer an alternative to the traditional foam helmet liner. They're formed in an extrusion process that creates an energy absorbent honeycomb-like structure. Koroyd Straws crush in a controlled manner, efficiently decelerating the energy from an impact.
Polycarbonate
A strong yet lightweight plastic, polycarbonate is used in the construction of the many current in-mold and hard shell bike helmets. During the in-mold process, a polycarbonate shell is bonded to the liner resulting in an even stronger helmet.
Fit Systems
Most bike helmets feature a ratcheting fit system or removable pads to adjust the fit.
Ratcheting Fit System
Helmets with a ratcheting fit system may feature a "dial," "crank," or "ring" at the back of the helmet that allows you to customize the fit. Benefits of ratcheting fit systems include that they are designed to provide a close fit using only thin pads and the "dial" isn't likely to break down from sweat.
Removable Pads
Helmets with removable pads come with at least one set of pads of varying thickness, allowing you to fully customize the helmet's fit. Select the pads with the thickness that feels right to you – the pads should touch your head evenly all the way around without making the helmet feel too tight.
Ventilation
Whether you're white knuckling your way down a rock-infested riverbed or busting a lung keeping pace with the peloton, staying cool is an important factor when riding. All modern bike helmets feature some form of venting designed to draw cool air over your head through the front ports and expel warm, sweaty air through the back.
Searching for a lightweight helmet that lets you move fast on pavement? Helmets with generous venting tend to be lightweight but sacrifice on impact protection during a crash. On the other hand all-mountain enthusiasts might gravitate (no pun intended) toward helmets with fewer vents that offer superior security during falls.
Helmet Care & Replacement
You've heard it before: Always replace your helmet after a crash. Why? For starters, the foam most helmets are made from doesn't recover after a crash. Even if your helmet hasn't endured visible damage, its safety may be compromised following impact. Bottom line? See it as an opportunity to trade-up for a sweet new style and invest in a new helmet after you take a tumble.
Haven't taken a tumble in a while? Most manufacturers recommend replacing your helmet every three to five years.
Clean your helmet with mild soap and warm water. Most pads can be removed for washing. Don't use solvents or strong chemicals to clean your helmet as these can damage the outer shell.
Safety Standards & Technology
Helmets made in the USA must meet the US Consumer Product Safety Commission standard, so look for a CPSC sticker on any bike helmet you buy. Other safety standards include:
EN 1078 - Field of Vision Test, Shock Absorption Test, Retention Systems Test.
CPSC 1203 - Peripheral Vision Test, Positional Stability Test, Retention Strength Test, Impact Attenuation Test.
Snell B-95 - Impact Management, Helmet Positional Ability, Retention System Strength, Extent of Protection.
ASTM F192 - For Downhill MTB Helmets - Focuses on greater impact protection and provides performance criteria for chin bars on full face helmets.

MIPS
MIPS is an acronym for Multi-Directional Impact Protection System. MIPS is a world leader in head and neck protection as a result of over 30 years of experience from its creators in the field of medical technology and research.
MIPS technology mimics the brain's protective structure by reducing rotational forces caused by angled impacts to the head. The helmet's shell and liner are separated by a low friction layer which allows the helmet to slide, noticeably reducing trauma to the brain in the case of oblique impacts. These angled impacts are considerably more common in action sports compared to the blunt force impacts for which traditional helmets are typically tested.