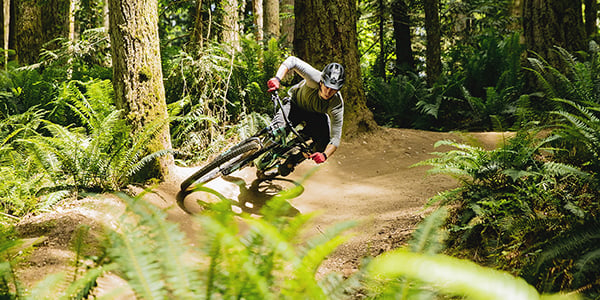 How to Choose Mountain Bike Shoes
Mountain bike shoes can be split into two main categories: Clipless, and Flat. The name "clipless" is actually counter-intuitive, it refers to shoes that have a cleat that "clips" into the pedal. The name comes from the early days, when most riders used toe clips to hold their feet onto their pedals. When someone designed shoes that used cleats instead, you could ditch the clips, and thus "clipless" pedals were born.
Generally, the choice for clips or flats while mountain biking comes down to personal choice. Clipless pedals are a little harder to get on and off but offer a more efficient ride and a little more control over the bike. Flats are easier to move your foot around on but don't give you that "locked-in" feeling. For new riders, flats are usually the best choice, and then you can decide if you want to transition to a clipless setup.
How to Choose Clipless Mountain Bike Shoes
The biggest question to ask yourself when choosing clipless bike shoes is, how often do you get off and walk during your rides? Most clipless shoes can be graded on a sliding scale: the more stiff and efficient they are, the worse they feel when walking, and vice versa. So if you barely ever get off the bike on your rides, you may as well shop for something stiff and light, with minimal tread on the bottom. But if you're often adventure riding and carrying your bike up steep sections or off trail, you'll want something with a softer sole and more grip.
Clipless mountain bike pedals made for DH and enduro-style riding often have a larger platform around the cleat. This makes them more comfortable on long descents and can give you some extra grip when you're on the pedal, but not clipped in. It's important to think about how the shoes you choose do or don't interact with the platform when you're trying to choose shoes. This means that enduro and DH mountain bike shoes often have flatter soles with sticky rubber, similar to flat pedal shoes.
Beyond that, make sure they fit you well, and are suited for the climate you ride in. If you're often riding in the wet and cold, several brands make very good clipless shoes designed for winter riding that offer more coverage, and waterproof materials. But for mostly summer riding, you want something with better ventilation and airflow.
Clipless mountain bike shoes offer a lot of closure options. Many come in both a "lace" and a "Boa" version. Which you choose is a personal question. Some riders like the flexibility of a traditional lace up shoe, others love the precision and fast on and off of a BOA system. Additionally, some shoes use ratchet straps or velcro. No matter what you choose, just make sure it feels good on your foot.
Clipless Mountain Bike Shoe Compatibility
All clipless mountain bike shoes have a two-hole cleat system that works with any pedal manufacturer's cleats. They won't work with road cleats, but anything that has two holes in it will work just fine. When combining shoes with big tread lugs, and clipless pedals with wider platforms, you may have to trim a little rubber to get them to interface smoothly.