How Bike Hubs Work & Bike Hub Points of Engagement
The Points of Engagement, or POE of a bike hub is something that manufacturers like to flout. It refers to how quickly the hub catches when you start to pedal. Hubs with more POE make it so your cranks have to rotate through less dead space before power is delivered to the back wheel. They help with efficiency and control. There are two main ways that hubs deliver those points of engagement: star ratchets, or pawls. Both have their unique strengths and weaknesses, but both ratchets and pawls do a good job of delivering power from your legs to the bike's tire. The number of POE matters more than how those points are created.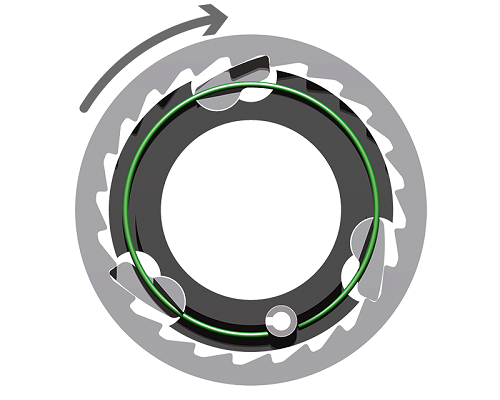 Image Source: DT Swiss
So, in general, nicer, more expensive hubs will have more POE. That said, there are upgrade kits for some hubs, like those from DT Swiss that allow you to upgrade cheaper hubs to more POE for a reasonable price.
How much does hub engagement matter? Well, it really depends on what you're riding. For road and gravel riders, it's not a huge concern. Generally, you're pedaling with a cadence, so your hubs are always engaged, and you're not ratcheting and noticing that dead space as much. However, for mountain bikers who like climbing technical trails, the number of POE makes a huge difference. The more instant that power transmission is, the easier it is to clean that gnarly, rooted out climb.
However, for more gravity-oriented riders, who climb less, and are happy to take a chairlift or shuttle up, and walk more technical climbs, more POE can actually lead to slightly less sensitivity in the rear suspension, since chain tension affects how the rear end of the bike moves. So, if you're an all-round rider, who wants to clear technical climbs, go for as many POE as you can afford. Otherwise, don't worry too much about it.