Many people refer to any waterproof breathable fabric or garment as "GORE-TEX®," but in reality it's a proprietary product and technology of the W.L. Gore Corporation. W.L. Gore is a large and diverse company that makes products ranging from artifical blood vessels and industrial filters to guitar strings and bicycle cable casings. The common thread in these products is that they utilize Polytetrafluoroethylene (PTFE) in one of its many forms. For outdoors enthusiasts, GORE-TEX® fabrics are probably the best known and best loved of these products - here's a little background information:
About Gore-Tex® Fabric
---
GORE-TEX® fabrics are created by laminating a GORE-TEX® ePTFE (expanded Polytetrafluoroethylene) membrane to high-performance textiles. W.L. Gore doesn't actually produce the outer or "face" fabrics (only the membrane), but is highly selective about which they choose to work with and subject potential samples to an array of tests before deciding to use them. The job of bonding the membranes and linings to face fabrics is performed in one of W.L. Gore's facilities on several continents.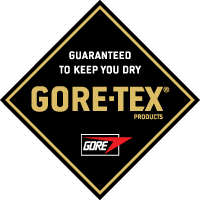 There are several categories of GORE-TEX® fabrics: GORE-TEX® Pro is designed for ultimate protection and durability in harsh condtions, GORE-TEX® Active is ideal for fast-and-light mountain travel, and GORE-TEX® is intended for all-around durable protection. GORE-TEX® is available in both 3 layer (3L) and 2 layer (2L) versions, with 3L having a mesh lining bonded to the other layers and 2L using a separate, sewn in fabric lining. New for 2015 is a line of GORE-TEX 3L fabrics with C-KNIT backer technology. These fabrics use a very fine, circular nylon mesh backer (the weave resembles that used in pantyhose) which results in better breathability, a very soft hand and smooth layering over textured mid layers, and a slight mechanical stretch.
Older versions of GORE-TEX® fabrics, as well as membranes used in footwear and handwear, may use the names GORE-TEX® Pro Shell, GORE-TEX® Active Shell, GORE-TEX® Performance Shell, and GORE-TEX® XCR. W.L. Gore also produces Windstopper™ and Thermium™ fabrics using windproof membranes that are not fully waterproof.
GORE-TEX® Membrane
---
The GORE-TEX® ePTFE membrane is the heart of all GORE-TEX® products. It contains over 9 billion microscopic pores per square inch. These pores are 20,000 times smaller than a water droplet, but 700 times larger than a water vapor molecule, making the GORE-TEX® membrane functionally waterproof, while at the same time allowing perspiration to escape from the inside. All current GORE-TEX® products except GORE-TEX® Pro incorporate an oleophobic (oil-hating) layer of very thin Polyurethane on the body side of the membrane to protect it from sweat and body oil. GORE-TEX® Pro uses a multi-component sandwich construction without the Polyurethane layer for increased breathability.
Seam Sealing
Seams and stitching are essential aspects of a garment's construction. Unfortunately, each time a needle penetrates fabric, it leaves a hole that water can leak through. For a garment to be waterproof, these holes must be sealed. Manufacturers using GORE-TEX® fabric are required to use GORE-SEAM® tape and W.L. Gore's proprietary seam sealing machinery, and also provide random samples to W.L. Gore for testing throughout a product's production run.
GORE-TEX® Product Testing
---
Product testing is an integral part of creating a new garment with GORE-TEX® fabric. GORE-TEX® products are put through a rigorous testing program in W.L. Gore's laboratories before being cleared for use. Testing for abrasion and wash resistance, waterproof breathability, and susceptibility to chemicals is routine for every iteration of GORE-TEX® fabric. Products are also extensively tested in the field by industry professionals, guides and expedition groups before going into general production.
Guaranteed to Keep You Dry® Promise
If you are not completely satisfied with the waterproofness, windproofness, or breathability of a GORE-TEX® product then W.L. Gore will repair it, replace it, or refund your purchase price.
---