What to consider when choosing a splitboard
Choosing the right splitboard is similar to choosing a normal snowboard: you want to pick a board that suits your weight, ability, riding style, and the terrain you will be riding. Consider that you will be taking this board on different terrain than you would take your regular snowboard. There are no groomed runs in the backcountry.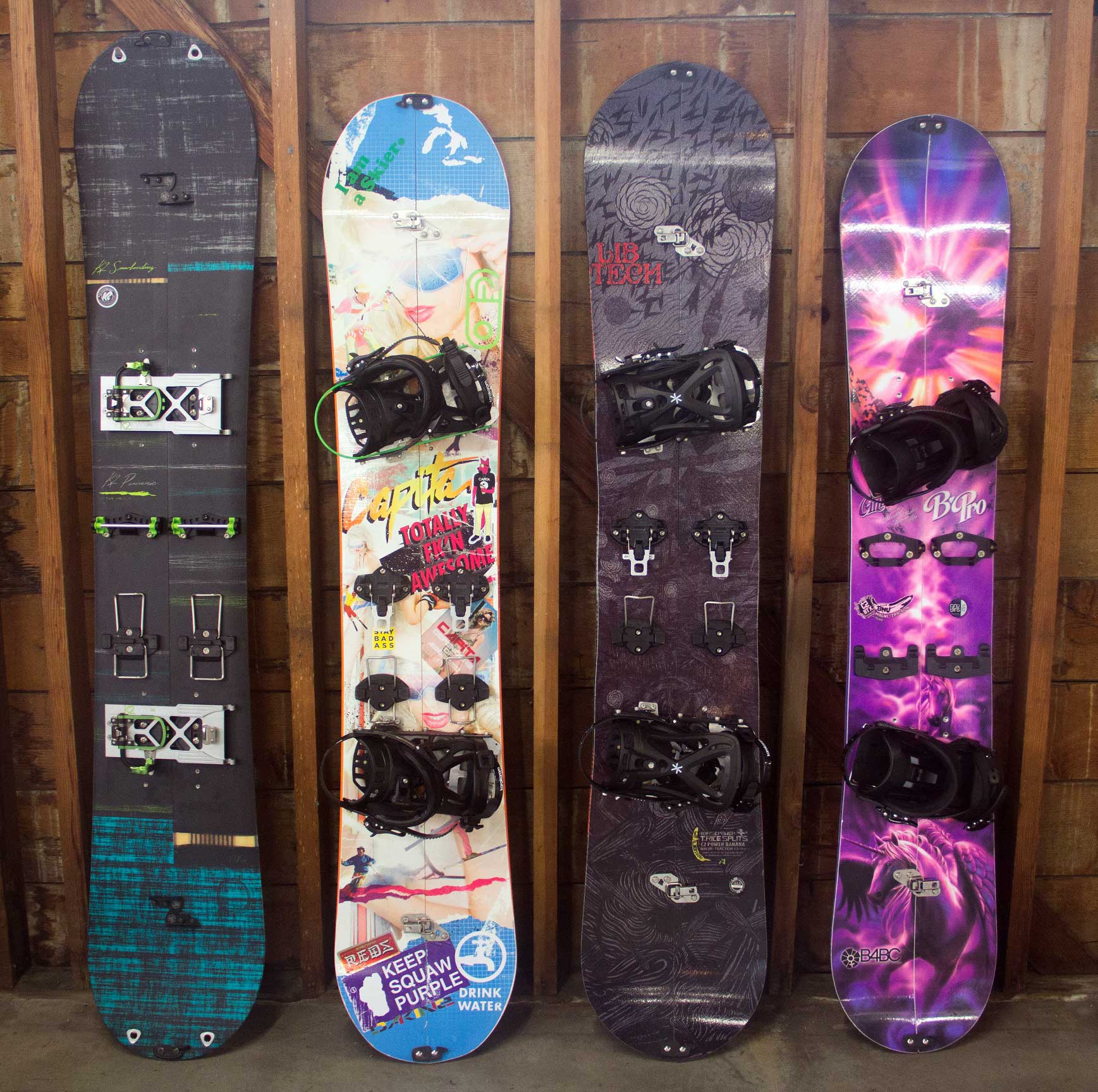 Splitboards of all shapes and sizes, for everyone!
Powder
Searching for untouched winter pow? Size up and find a board with some form of rocker; doing this will allow for more float in deep snow. A board with a tapered tail is a great option as well because it allows the tail to sink into the snow and the nose to rise above.
Freestyle
Freestyle fun? Look for something that is twin shaped for riding switch. While you don't necessarily need to size up, it may help if you plan on getting tricky in the pow. Boards based off of freestyle classics or DIY splits are a great option here.
Freeride
Turns all year? In search of gnarly lines? Directional and stiff are your friends here. Look for something with some camber under your back foot for maximum power and control and rocker in the nose to stay afloat in deep snow.
Ladies
Don't feel like you have to compromise and buy a smaller men's board. Most companies are offering women specific splitboard designs, with narrow waist widths, smaller sizes and softer flexes. From freeriders to freestylers, there are different shapes and camber profiles to meet every lady's desire.
Interface
---
The interface is what connects the bindings to the board for both touring and riding. There are two main interface systems: the Voilé puck system and the Karakoram system.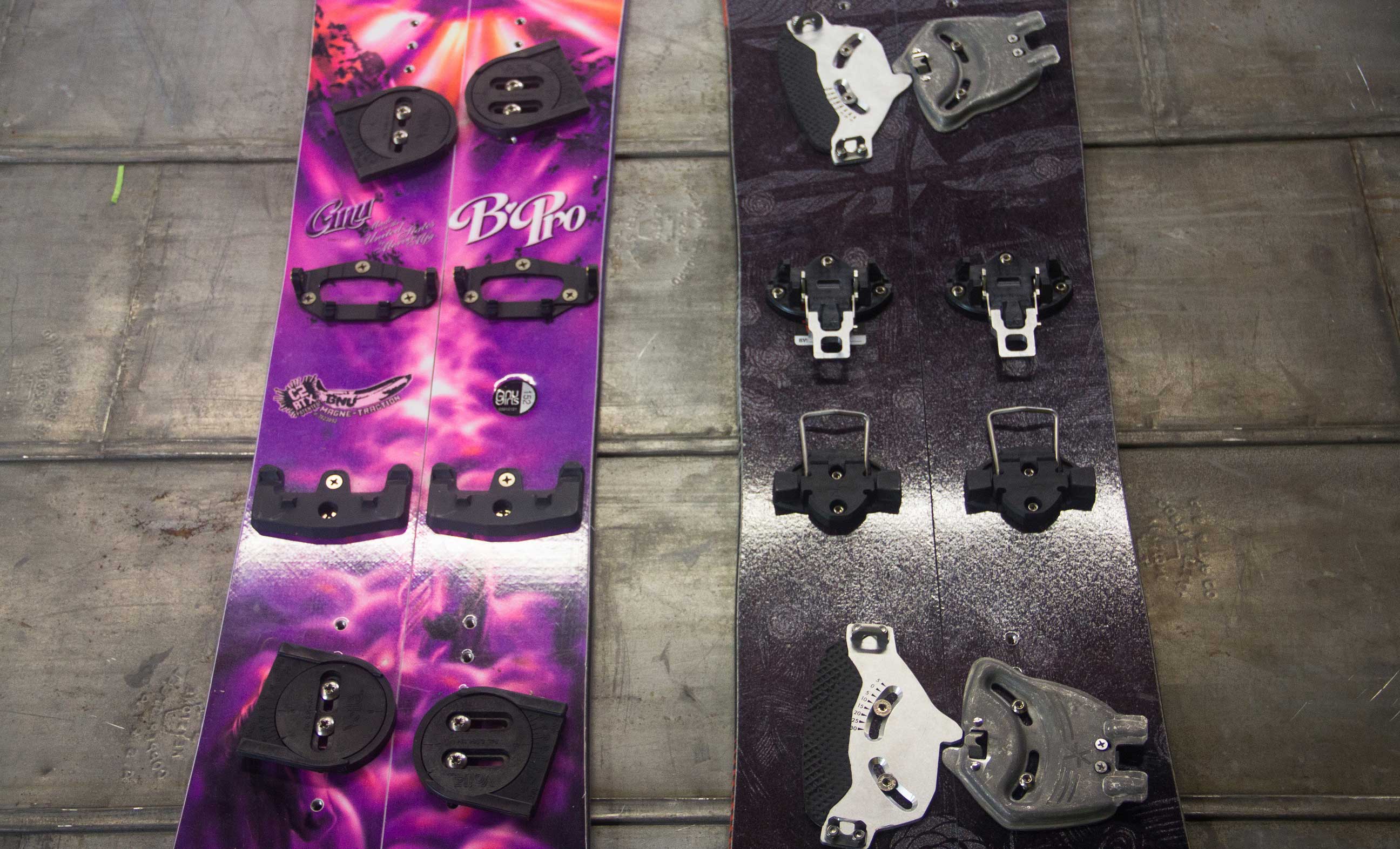 Voilé puck system on the left, Karakoram system on the right.
Voile
The Voilé Puck system consists of four pucks that are attached to the inserts. For ride mode, the bindings slide over the pucks and are locked into place with a pin. In tour mode, that same pin creates a pivot point, allowing the heel to be free for longer strides.
There are a couple of different bindings that will work with this system. Splitboard specific bindings designed by Spark R&D, Voilé, and K2's Kwicker will work with the puck system. If you don't want to opt for split specific bindings, the Voilé Sliders allow you to use your traditional bindings while splitboarding. The Voilé pucks are not included when purchasing bindings.
Karakoram
The Karakoram system is designed to work with only Karakoram bindings. It consists of four metal plates that join the splitboard together using the bindings' lever and pin system. This active joining technology creates a feeling similar to a solid snowboard. In tour mode, the toe piece of the binding locks into the touring bracket, and with its sleeved axel, it creates a pivot point necessary for touring. Also, this interface allows you to lock the heel of the binding, which is unique to Karakoram. This allows for side-stepping gnarly terrain and skating out of flat areas. The Karakoram interface is included with all Karakoram bindings, which is reflected in their pricing.