Attaching Disc Bindings to Board
It's finally time to put these puppies where they belong.
You have your starting stance width and angles, and you know where the nose and tail of your board are. You also hopefully know your stance (regular or goofy, left or right foot forward). Now it's time to transfer these things to the board.
You'll need your multitool or screwdriver, your bindings, your binding hardware, and your tape measure.
Step 1: Choose Binding Position
You can either place your bindings on the "reference stance" we discussed earlier, or we can use the tape measurer. Remember, your stance width is calculated to the center of the your discs.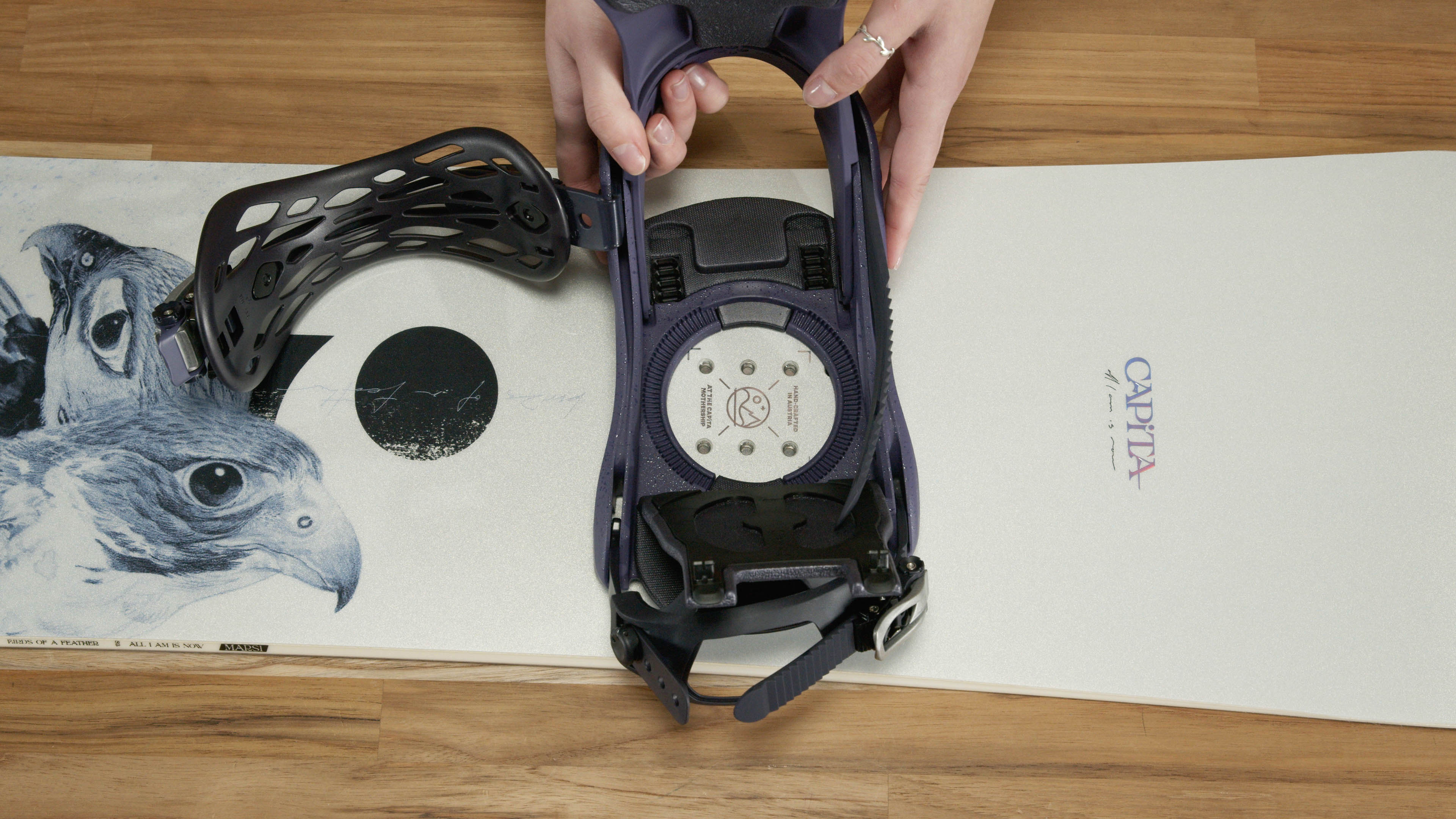 With the tape measure on the board it should be fairly simple to see which sets of 4 holes are going to line up with your mounting discs. Generally, you should mount your front and back bindings to the inserts mirrored from each other. For example; if your front binding mounting disc is mounted with 2 sets of holes visible toward the nose, your rear binding should be mounted with 2 sets of holes visible toward the tail. This amount will be different depending on your board, stance width, and binding size, so just try to make it even.
In an ideal world your desired stance width will transfer perfectly to the board, with the screws going into the centered holes on your mounting discs. But that's not always the case. That's why there are multiple sets of holes in those discs. If you need to go slightly wider or slightly narrower, but moving to different inserts is too far, you can do so by using different sets of the holes that are in the mounting discs. It's ok if the screws are completely centered on the mounting discs.
Step 2. Attach Bindings
Go ahead and attach your bindings to your board, but don't tighten all the way. We recommend using a hand screwdriver and not a drill so you don't over tighten or strip the screws. 
Step 2. Check and Tighten
Once the bindings are on the board and relatively secure, you should step into the bindings on the board. You can do this with your snowboard boots on for maximum effect. Stand on the board and feel it out, look at the nose and tail of your board, assess the width and angles. Do you feel comfortable? Stable? If so, go ahead and tighten those screws down nice and snug. If not, tweak your angles or width as needed, and then tighten.