Flex
6 (1 Soft - 10 Stiff)
Fit
Articulated Construction
Liner
Internal Ankle Harness
White Liner – Premium performance. Multi-layer construction combining EVA memory foam and high rebound heat moldable EVA with thermal regulating fleece guarantees out-of-the-box comfort and a truly custom fit. Anatomical J-bars and the 180° power strap deliver support and response.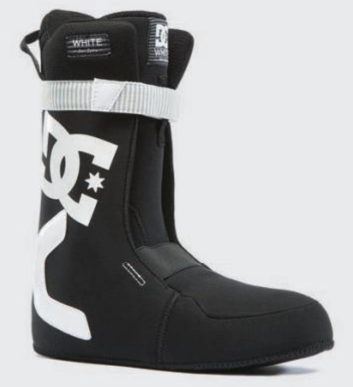 Lacing System
Boa H3 Coiler Closure System with 2 Reels and Zonal Closure – The unbeatable H3 coiler platform is fast and easy, offering micro-adjustability for dialing in the perfect balance of flex and support.
Footbed
Impact S Insole – The DC Impact S Insole has been designed and developed literally from the ground up. The insole is created from proprietary single density polyurethane developed for minimizing harsh landings without compromising board feel.
Sole
Foundation Unilite Outsole – DC's lightest weight outsole. Made of 100% Unilite™, it provides essential durability, dampening, and cushioning while drastically reducing weight. The snow-shedding traction pattern on the foundation is designed for secure ascent and descent, as well as skating with one foot strapped in.
Push Zone – Engineered tread patterns to maximize skating with one foot strapped in.
Heat Foil – The application of a foil strobel board works to reflect heat back to the foot and cold back to the snow.