Single Tab (Futures) and Dual Tab (FCS) style fins are not cross compatible. You must use fins that are compatible with the fin boxes installed on your surfboard.
Choosing Your Fins
---
When choosing fins for your surfboard, you should start with your weight. Choosing the appropriate fin size is the first essential step to choosing the right fins. Once you have decided on a size, examine your board's fin configuration, or fin setup. Your board will be outfitted with 1 to 5 fin boxes.
Fin Size
---
The following chart is evo's recommended fin size according to rider weight. If you are in between sizes, consider the type of board or type of waves you will be riding with that particular setup. For example, if you are in between size M and L, you might pick size M fins for your small wave board, but size L fins for your big wave board.
Fin Configuration
---
Once you've decided on your fin size, you need to understand your board's fin configuration. To determine your fin configuration, examine the base of your surfboard near the tail. The number of fin boxes you see is the fin configuration and will likely range from 1-5. The most common surfboard fin setups are Single, Twin, Thruster and Quad. Some boards are equipped with 5 Fin boxes so you can mix and match more easily, while more and more boards are now fitted with a longboard single fin box and regular side fin boxes called 2+1.
Single Fin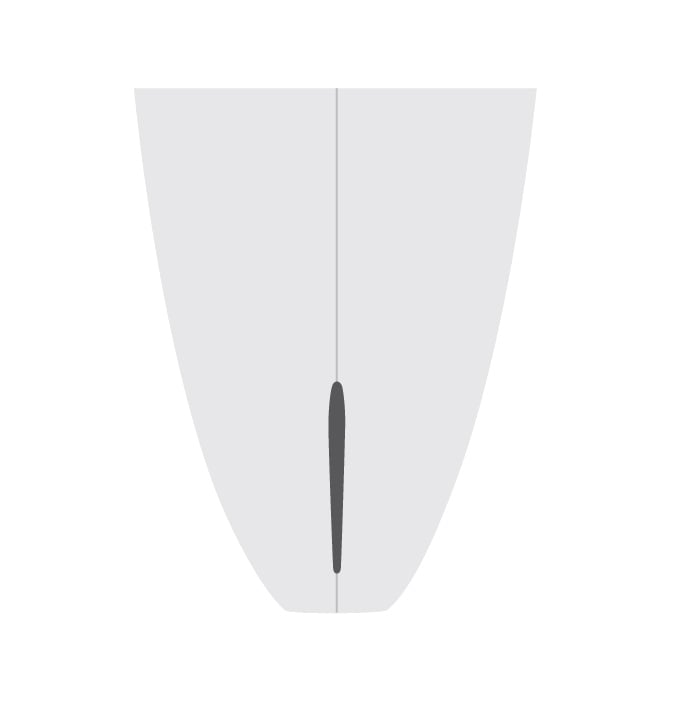 A single fin box is most common on longboards and is the most traditional surfboard fin configuration. Turning with a single fin is limited, meaning single fins are ideal for fast, straight shot surfing. Single fins will provide stability, control, and predictability to your longboard. Longboard single fin boxes are long and allow you to move the fin forward for a looser feel, or further back for more control.
Twin Fin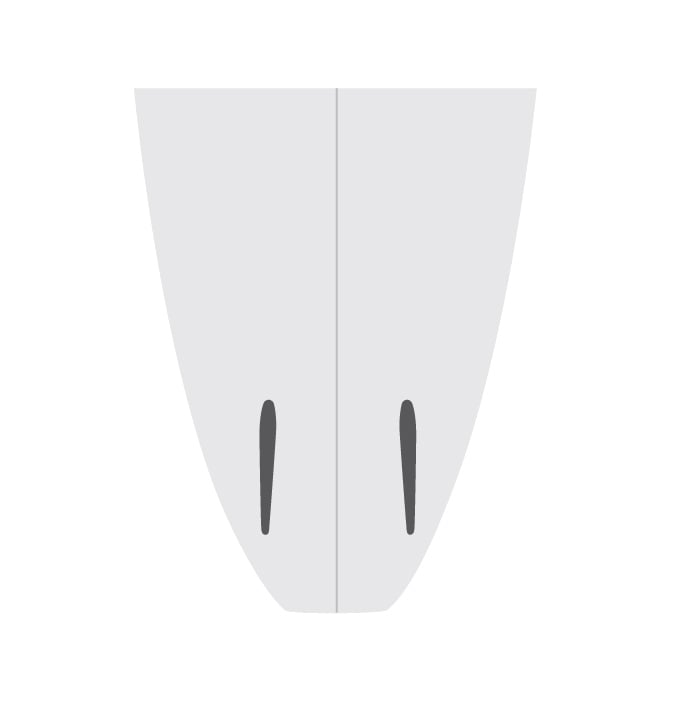 Twin fins or a dual fin configuration will make your surfboard fun, playful, and maneuverable. Two fin setups are not ideal for big-wave riding and are commonly featured on shortboards to enhance their speed. Twin fins offer a skatier feel and longer, more drawn out turns.
Thruster/Tri Fin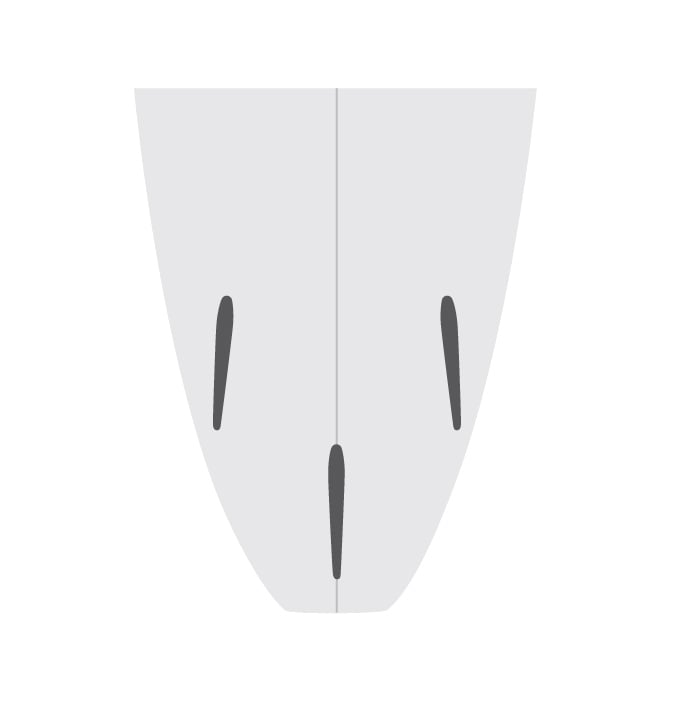 Nowadays, 3 fins is the most common configuration and can be found on a variety of surfboard shapes and sizes. The two outer fins are closer to the middle of the board, angled towards the board center ("toed-in") and can be flat on the inside in order to increase water tracking and speed. The center fin is the closest to the tail and is symmetric on both sides for stability (see Foil for more info). Tri-fins perform well because they add stability, control, and maneuverability that beginners to pros excel on. A thruster configuration also gives you options – ride twin or single if you want!
Quad Fin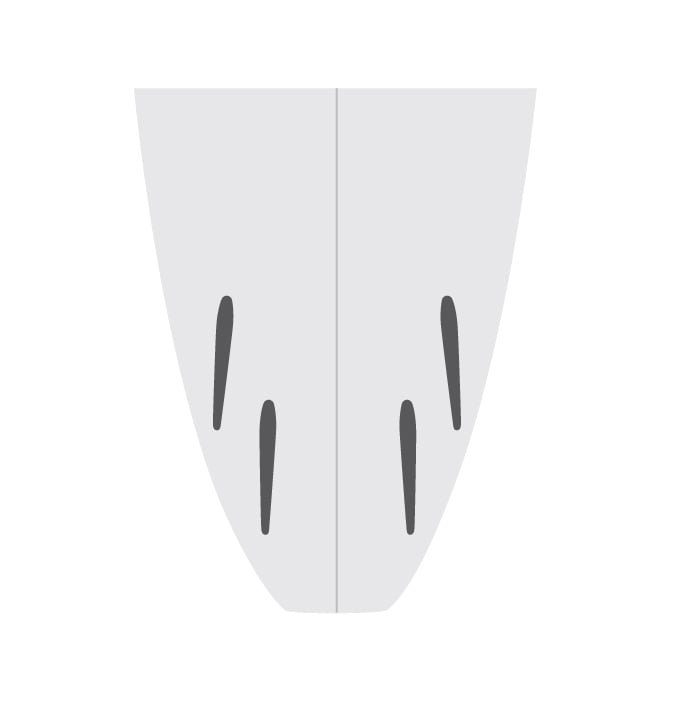 Quad fin configurations offer speed in smaller surf by channeling the water to the end of the surfboard and out the tail for acceleration. Two fins near the rails of your surfboard will also add stability and hold in big-wave surfing. Lastly, quad fins are great for generating drive through turns.
5-Fin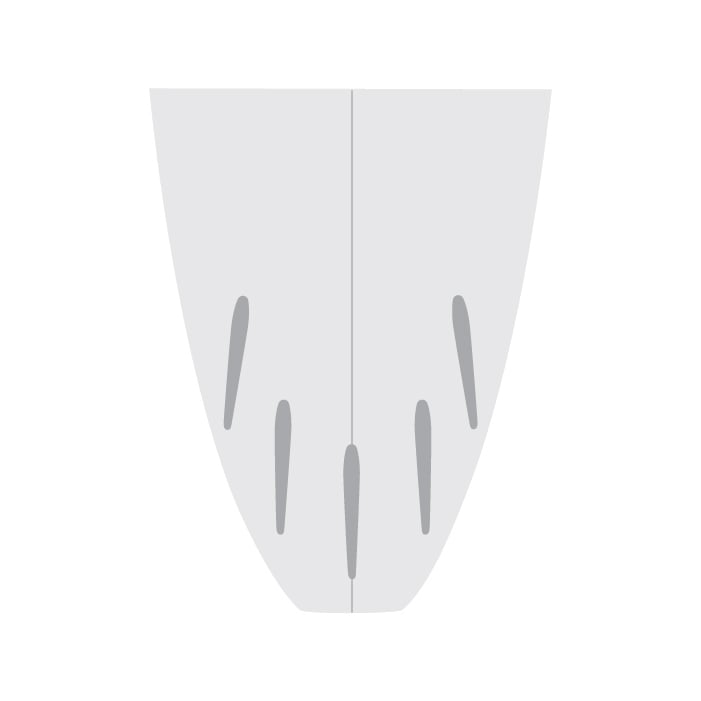 Five fin configurations are not meant to be surfed with all five fins. Five fin boxes allow you to mix and match fins depending on your preference and the surf conditions. Swap from the freedom of a twin fin, to the traction of a thruster, to the speed of a quad without changing boards.
2+1 Fin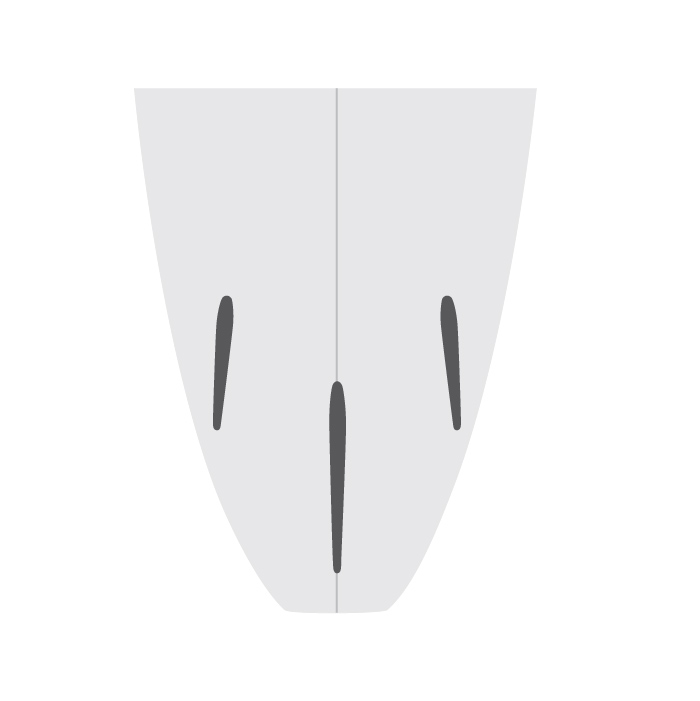 2+1 configurations have a longboard single fin box in the middle, with 2 regular thruster side fin boxes to each side. The middle box is longer, allowing you to set your middle fin forward or back. This is an increasingly popular fin box configuration on eggs, funboards, SUPs and logs.