Wheels play a huge role in how your board preforms because they provide grip between you and the road, which affects speed and cornering ability. There are several different factors that dictate how the wheels will perform. These factors are shape, width and height, durometer and core style.
Each factor is discussed below, followed by a chart to show which of the following features are best for each style of riding.
There are two shapes that wheels, or rather the lips of the wheels, can have: round and square.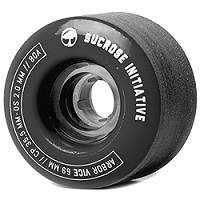 Arbor Vice 80a Longboard Wheels

Square
Square lipped wheels are the typical longboard wheel shape. Instead of the "edge" of the wheel being rounded, it's, yes, square (at a 90° angle). This provides better contact with the road, which in turn provides much more traction and sliding resistance. Square wheels can still slide once broken in, making them excellent for downhill and cruising/carving.
Landyachtz Micro Monster Hawgs Longboard Wheels
Width and Height
The width of the wheel is the distance from the outer to inner edge of the wheel, or can sometimes be measured by the wheel's contact patch. A wider wheel will generally offer more grip but will also be slower due to its increased contact with the ground.
The height (also called diameter) of the wheel is the distance between where the wheel touches the ground to the top of urethane, in a straight line. It is usually listed in the name of the wheel and is measured in millimeters (ex. 75 mm / 78a). Larger wheels will offer a smoother ride because they can roll over cracks and obstacles with less effort, but they will also make for slower acceleration. Smaller wheels accelerate faster, but they increase the risk of you getting bucked off your board if you hit a large enough crack or piece of debris.
Durometer
Durometer tells you how hard the wheel is. It is listed in the name of the wheel, and is followed by a letter (usually either "a" or "b") (ex. 75 mm / 78a). This letter explains what scale was used to measure the wheel. "a" wheels are made of a softer, more rubbery material, while "b" wheels are more of a hard plastic. The lower this number is, the softer and more rubbery the wheel will be. Soft wheels provide more traction and are better on rough pavement but are also slower due to more friction with the ground. Harder wheels, or those with higher durometer ratings, will have less friction, which makes for a rough ride on bumpy pavement, but they are also faster and easier to break out into a slide.
Generally, beginner/intermediate riders should look for softer wheels in the 75a – 80a range for the best grip.
Core
The core is the center of the wheel, and it's what houses the bearings. There are three different types of cores: centerset, offset, and sideset.
Centerset
Centerset is found on most sliding and skateboard wheels. Its symmetrical design allows the rider to flip the wheels around once one side becomes worn, which effectively prolongs the lifespan of the wheel.
Offest
Offset cores are located off-center, closer to the inside of the wheel. This offers a nice balance of grip and slide-ability.
Sideset
Sideset wheels have their cores located very close to the inner lip of the wheel. This offers great slide-ability due to the minimal urethane on the inner lip, but they cannot be flipped once they become worn.
| | | | | | |
| --- | --- | --- | --- | --- | --- |
| Riding Style | Wheel Height | Wheel Width | Durometer | Wheel Shape | Core Type |
| Cruising/Carving | Approx. 75 mm + | Approx. 55 mm | 75 - 80a | Square or Round | Offset |
| Downhill | Approx. 70 - 75 mm | Approx. 55 mm | 78a - 83a | Square | Offset |
| Freeride | Approx. 65 - 70 mm | Approx 45 mm | 80a - 86a | Round | Any Core |
| Freestyle | Approx. 55 - 65 mm | Approx 45 mm | 75a - 80a | Any Shape | Any Core |
Bearings
Simply put, bearings are what make your wheels spin. They are typically rated by a standard called ABEC, and the higher the ABEC rating, the faster your wheels will spin. Generally, ABEC 3 bearings are good for cruising, ABEC 5 is good for freeride, and ABEC 5–7+ bearings provide maximum speed for downhill and racing.
It's very important to perform regular maintenance on your bearings. This will help maintain them for optimum performance and durability. To do so, simply remove your bearings, clean, re-lube and re-install them. We recommend doing this after every 50 hours of riding (more or less) with a product such as
Bones Speed Cream Bearing Lube
. (Do this much sooner if you ride in the rain or through a puddle; water will cause bearings to prematurely rust.) NEVER USE WD-40! WD-40 and other household "lubricants" will actually dry your bearings out and reduce their performance and lifespan.
*Do not over-tighten your bearings during installation. This can severely damage them. If the bearings start to feel "crunchy" you've gone too far and need to loosen them.