How to Prepare For a Day Snowboarding
When it comes to your first day snowboarding, forethought is the key to happiness. Anything that you can plan ahead will save you time and money, and make learning to ride that much smoother. So here's a few things you can do ahead of time to set yourself up for success.
Buy Your Lift Ticket Online
More and more ski resorts are offering online ticket sales, often at a slight discount. Buying your ticket online ahead of time can save you a lot of time and hassle. No one wants to wait in a long line in the cold first thing in the morning. So shop online and beat the rush.
Shop for Beginner Snowboard Packages
Ski resorts want to help bet you snowboarding, they exist to help more people fall in love with the sport after all. So many hills offer discounted packages that include a lift ticket, gear rental, and a lesson. These snowboard packages are always your best option when first trying the sport. They're designed to help you become a competent snowboarder with as little hassle as possible, for the lowest price possible. Take advantage of them.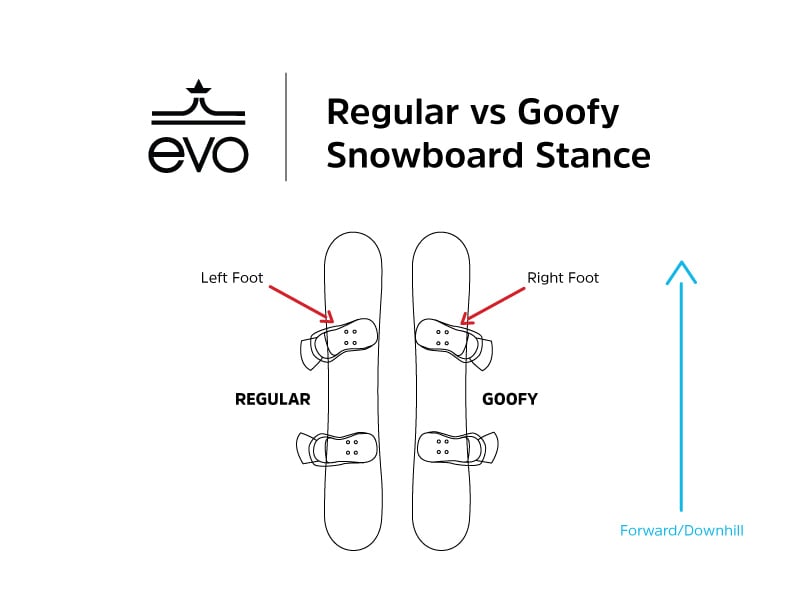 How to Figure Out Your Snowboard Stance
Because you go down the mountain sideways on a snowboard, you'll have to choose which foot will be your lead foot, just like on a skateboard, wakeboarders, or surfboard. This is referred to in snowboarding as your stance, with two options, regular and goofy. Knowing which stance you are ahead of time will speed up your board setup at the mountain, and help you get started making turns more naturally.
A regular stance has your left foot facing forwards, where a goofy snowboard stance has your right foot facing forward. Neither one is right or wrong, it just depends person to person. About 70% of riders are regular, and about 30% are goofy. One simple way to figure out if you should ride regular or goofy is by which foot you'd choose to kick a ball with. That foot will be in the back when you snowboard. For example, if you'd choose to kick with your right foot, you are regular - left foot, goofy.
---