Insertion Length
The next important step in choosing a correctly sized dropper post is the overall length and insertion length. The overall length is simply how long the post is when it is fully extended, and insertion length dictates how far into the frame the dropper post extends. These measurements are important for several reasons.
1)
you want your dropper post to fit you, the rider, and
2)
your dropper post has to fit into your bike's seat tube.
As bike geometry has evolved over the years, seat tubes have gotten shorter, and bends in the tube have become more common, so the insertion length is important to make sure a dropper post is compatible with your frame. Likewise, all dropper posts will have a minimum insertion length, dictating how far into the frame the post must sit in order to avoid damaging the internals or breaking the post.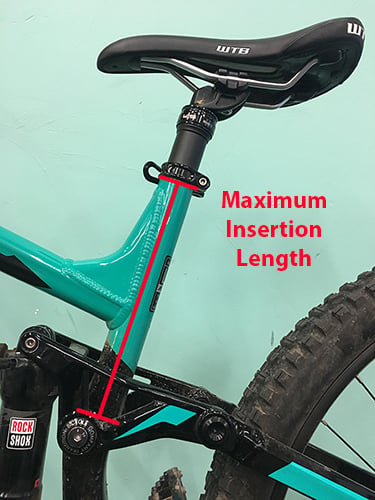 Travel
The travel measurement of a dropper post dictates how far the post can extend.
To choose the correct travel dropper post
,
measure from the seatpost collar to the seat rail (in your climbing, or highest setting) on your current bike. Subtract 50mm from this measurement
and the resulting number is the maximum travel length dropper post you can comfortably run. Too much travel can put the seat height too high, even when climbing.