Bike Saddle Features
Beyond these basic sizing and shape parameters, brands like to tout special features. Some of these, like gell pads, can make a small difference in comfort for some people, others are just weight saving measures. Here's a list of the pros and cons of some common features.
Bike Saddle or Seat Padding & Comfort
Often people conflate a saddle's level of padding with its comfort. That's actually inaccurate. Sure, padding plays a part, but shape is much more important - a good fitting bike saddle will be more comfortable than a padded bike seat. If you ride in padded bike shorts, remember that they are providing most of the cushion against your saddle, you probably can get away with a less padded saddle. Too much padding will actually lead to chafing and discomfort on longer rides.
If you don't ride in padded shorts, you need to make sure your saddle fit is perfect. Even then, if you're riding a hardtail or rigid bike, it's a good idea to look for something with a little extra padding.
What do Bike Saddle Cutouts Do?
Lots of bike saddles feature some sort of cutout down the middle. These are designed to help with circulation. On longer rides, pressure on your perineum can lead to a loss of circulation to vital parts of your anatomy. However, not all folks benefit from cutouts. If you can sit comfortably on a hard, unpadded seat or bench for longer than five minutes without discomfort, you'll probably be fine without a channel. However, if you feel any pain or numbness, a saddle with some kind of cutout is a good idea. If you can get away without a cutout, do so, saddles without cutouts are generally more comfortable on longer rides, as long as you're not having circulation issues.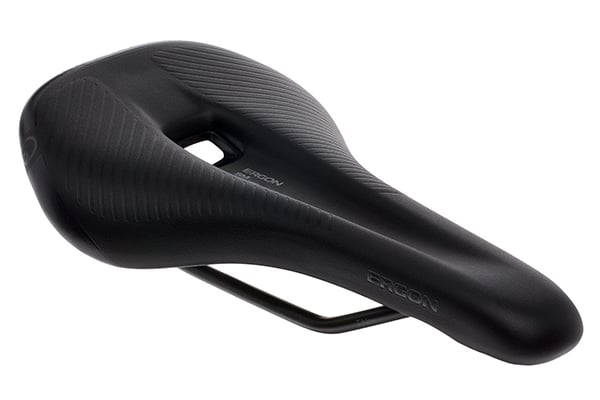 Shock-absorbing Bumpers or "Engineered Flex"
Some brands will build some give into their saddles, either with rubber bumpers or flex zones. If you're riding a rigid or hardtail bike over rough terrain (especially washboard roads) some kind of flex or shock absorption in the saddle can make a huge difference. However, for mountain bikers, they can make the saddle feel too flexy, and vague.
Non-Slip Bike Saddles
Some saddles have grippy portions built into their covers. These can help you stay situated on the saddle in wet conditions or rough terrain. However, if you like to shift around a lot on the saddle while riding, they can make this hard to do, or uncomfortable. If you like to lock into one position, look for a saddle with rubber grippers, or high-traction materials. Otherwise, it's very easy to add a little grip tape to a saddle later if you find it's too slippery.
Gel Padded Bike Seats
Some brands like to hype their "gel comfort pads." For most serious riders, going on rides longer than half an hour or so, overall saddle shape and fit is much more important than gel padding. So don't buy into the marketing talk. If a saddle is the right shape for your butt, it will be more comfortable, regardless of what its padding is made of.
Bike Saddle Rail Materials
Saddle rails are usually made of steel, aluminum, titanium or carbon. Many brands will sell the same saddle with different rail materials. When it comes to rail material, the more you pay, the lighter your saddle will be. There's nothing wrong with aluminum rails on your saddle, but if you're going for the lightest bike possible, it's fine to shell out for titanium or carbon too.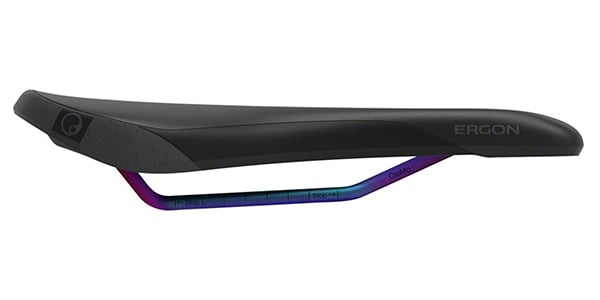 ---