Fit
Last – 102mm
Easy On/Off – The front of the shell opens a full 90° to slide your foot in and out with ease in all temperatures. Like putting on slippers!
Flex
Flex 8 Tongue
Flex Rating – 100
Infinite Pivot – Unlike traditional designs, the rear cuff never bottoms out. It pivots infinitely forward with your calf for less shell distortion, no shin pain, and more control.
Ribbed Tongue – 100% ribbed tongue enables smoother, more natural linear flex from your shin to your toe. The tongue bends like a flexible straw, never bottoming out while providing smooth rebound. No more shin bang! Optimized for FT's new 45 degree cable positioning for the smoothest flex possible.
Adjustable Flex – The boot's flex is rated on a simple scale of 4-12 (12 = stiffest). Change a boot's flex by simply switching the tongue.
Liner
Pro Wrap Liner – The Pro Liner's laminate is specifically engineered to provide the most energy transfer to the shell while maintaining warmth in a custom moldable fit.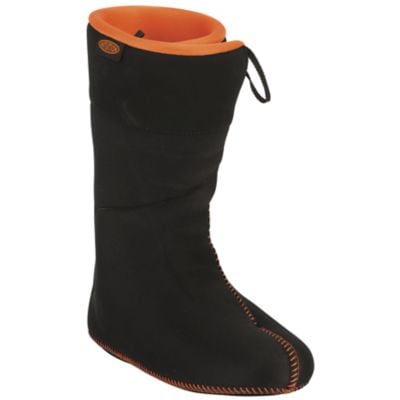 Foam Composition [Foot to Shell] – 4mm Open Cell / 2mm Intuition™ Medium Density / 7mm Intuition™ High Density
Shell Materials & Design
Evolution Pro Tour Shell – The Evolution Pro Tour offers a smooth stride and articulated purchase in any situation. Walk farther and more comfortably than ever before. Featuring a higher back cuff and lightweight Grilamid™ plastic, this construction will take you anywhere.
Stance
3-Position Forward Lean Adjustment – Tool-less forward angle adjustment thanks to included forward lean wedges.
Removable Velcro Wedge Spoiler
Ski/Walk Mode
FTE Walk Mode – Flip the lever up to ascend with ease. And when it's time to send it, flip the lever down, lock the cuff in place, and push into the fluid, progressive flex you've come to expect from Full Tilt. Works great for apres bar sessions too.
Buckles
Ladder Buckles – The ladder buckle features an intuitive, easy to remember, macro-size adjustment, plus a micro-twist for fine adjustment with a light, easy-to-handle aluminum lever.
45° Heel Lock – Keep heels where they belong. Placing the middle buckle at an optimal 45 degree angle creates a solid lock for the heel to stay put when pressuring the tips and tails of the skis.
Sole
Mid Grip – Whether you are climbing grated stairs or scrambling on top of a mountain, a dual material or single material midgrip gives you the confidence to stay on your feet.
Dual Material Toe & Heel – A firm TPU and a softer material combat wear and keep your feet underneath you on any surface.
Replaceable Outsoles – Easily replace chewed up soles.
Additional Features
Shock Absorber Boot Board – Soft rubber layer in the sole of the shell absorbs vibrations, impact and shock for a smooth ride.