Fit
Last – 99mm
Easy On/Off – The front of the shell opens a full 90° to slide your foot in and out with ease in all temperatures. Like putting on slippers!
Flex
Flex 6 Tongue
Flex Rating – 90
Ribbed Tongue – 100% ribbed tongue enables smoother, more natural linear flex from your shin to your toe. The tongue bends like a flexible straw, never bottoming out while providing smooth rebound. No more shin bang! Optimized for FT's new 45 degree cable positioning for the smoothest flex possible.
Infinite Pivot – Unlike traditional designs, the rear cuff never bottoms out. It pivots infinitely forward with your calf for less shell distortion, no shin pain, and more control.
Adjustable Flex – The boot's flex is rated on a simple scale of 4-12 (12 = stiffest). Change a boot's flex by simply switching the tongue.
Liner
Classic Liner – The Classic Liner's laminates feature a multi-layered construction in a traditional tongue liner, designed to provide the targeted comfort and performance in a familiar way.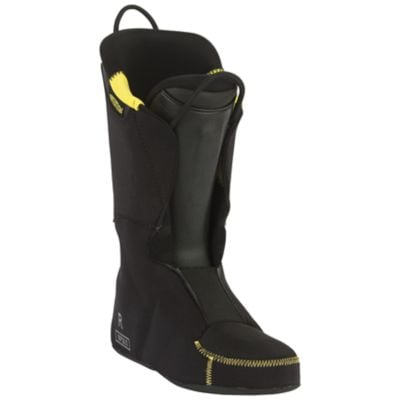 Foam Composition [Foot to Shell] – 5mm Open Cell / 4mm Intuition™ Medium Density / 4mm Standard High Density
Shell Materials & Design
Original Shell – The Full Tilt Original (FTO) offers the same fit and feel as the Raichle boots of years' past, updated to withstand the rigors of today. Precise, snug, and proven, this 99mm lasted shell has become the definitive freestyle boot of the modern era.
Stance
3-Position Forward Lean Adjustment – Tool-less forward angle adjustment thanks to included forward lean wedges.
2 Medial Cuff Alignment Inserts
Removable TPU Spoiler
Buckles
Widetrack Buckles – Durable aluminum levers with a minimalistic lightweight design. This adjustment mechanism is engineered to increase precision and durability while maintaining on-the-fly, single-handed micro adjustments.
45° Heel Lock – Keep heels where they belong. Placing the middle buckle at an optimal 45 degree angle creates a solid lock for the heel to stay put when pressuring the tips and tails of the skis.
Sole
Replaceable Heel Strikes – Replaceable rubber heel improves grip while walking.