Rocker Type
PowRock 6-0-2 – Aggressive rocker in the tip, flat underfoot, and slight rocker in the tail.

Flex
Flex: 4 – (1 Soft - 5 Stiff)
Shape
3D Powder Hull Design – The 3D Powder Hull starts with a base profile that combines 2 distinct rocker lines that, when blended together, create a pronounced base concave in the nose and tail. The centerline is fully rockered starting from the insert packs, all the way to the tips of the bluntly shaped nose and tail. Out at the contact edges, there is a more conventional base profile that Yes. uses on many of their other boards. The resulting concave across the nose and tail acts differently at the leading end of the board than it does on the trailing end when riding deep snow. At the nose, the concave draws air under the board causing lift and flotation. As the snow moves across the base it releases off the tail and the exaggerated rocker line along the center causes the tail to drop downward. So even though it's a perfectly balanced twin, the board rides through deep snow with the same pitch, or planing angle that you'd get with directional shapes and set-back stances.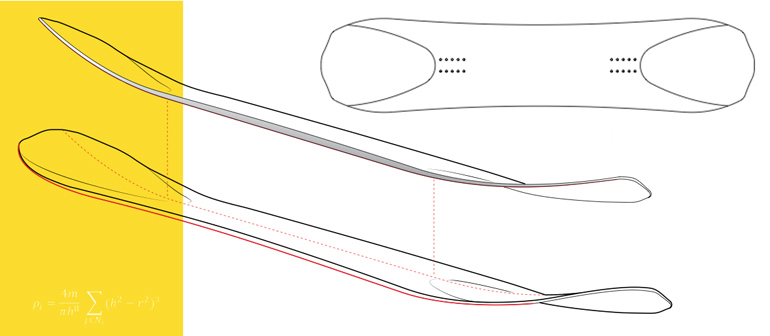 Radial Tapered + 3D Powder Hull – A slight taper (12mm) helps keep the nose up without loosing the tail's ability to hold in hard-pack. Stance is only slightly set back from center of effective edge because the difference in nose and tail shovel keeps you from going over the nose.

Core
Weightless Core – The Weightless Core strikes a critical balance between light weight and strength. Using a lower density species of Poplar in areas that are not as structured and Paulownia in the areas that are, Yes. was able to shave precious weight. This helps the board not only float, but "feel" floaty.

Laminates
Triax Glass
Base
Sintered True – Pellets or course powder are pressed until they form a solid. There are several suppliers in the industry and each have different codes depending on their color and transparency. These codes can make it seem like you're getting many different kinds of sintered bases, but they're all pretty much the same. The Sintered True base is harder and more expensive than an extruded base and can be faster for those that ride aggressively. But to do that, it needs to be waxed and prepared for local conditions.
Binding Compatibility
2 x 4 Insert Pack