Rocker Type
Cam-Out Camber – Nitro's Cam-Out Camber is basically a true camber with early and smooth transitions into tip and tail. The result is a fun and responsive board that turns on the spot and is forgiving, even after that 713.5° landing.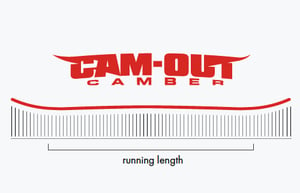 Flex
Park Flex – Specifically tuned for park riding, this flex pattern is forgiving yet responsive; allowing you to take your riding to the next level on jumps and rails.
Shape
Twin Shape
Radial Sidecut – The simplest and most common of all sidecuts: One single radius makes this sidecut extremely versatile and predictable.
Core
PowerCore II – A tip-to-tail poplar wood core with additional beech wood stringers for unrivaled strength, smooth response and insane snap.
Whiplash Core Profile – This profile features reduced thickness between the inserts with added meat outside your feet for maximum ollie power, while maintaining a perfect press flex.
Laminates
Bi-Lite Laminates – Nitro's rider-trusted Bi-Lite Laminates are engineered for unrivaled strength, powerful style and refined board-feel.
Base
Sintered Speed Formula HD – Utilizing a new base material compound, Nitro has been able to achieve higher abrasion resistance, increased wax absorption, and higher on-snow speeds.
Edges
RailKiller Edge – Your secret weapon for rails, rocks and longevity! With it's unique edge profile and impact resistance of more than 200% compared to a standard edge -- the RailKiller Edge is twice as thick and twice as strong. This proprietary construction can take on any rail challenge. Take a file to them or ride them hard and wear them down naturally, this chunk of steel has enough meat for years of abuse.
Graphics
Artwork – Paul Brown
Binding Compatibility
2 x 4 Insert Pattern