Rocker Type
Cam-Out Camber – Nitro's Cam-Out Camber is basically a true camber with early and smooth transitions into tip and tail. The result is a fun and responsive board that turns on the spot and is forgiving, even after that 713.5° landing.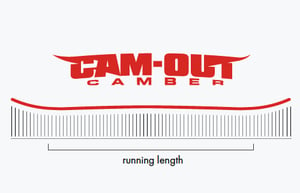 Flex
All-Terrain Flex – Nitro's most versatile flex pattern, combining Nitro's signature pop with smooth response, allowing you to tear up the entire mountain.
Shape
Directional
Mid-Wide Width
Radial Sidecut – The simplest and most common of all sidecuts: One single radius makes this sidecut extremely versatile and predictable.
Core
Powercore – Nitro's Powercore uses tip-to-tail poplar wood, providing lightweight strength and the perfect blend of flex, response and feel.
Laminates
Bi-Lite Laminates – Nitro's rider-trusted Bi-Lite Laminates are engineered for unrivaled strength, powerful style and refined board-feel.
Base
Premium Extruded FH Base – Durability, speed and low maintenance all in one ultra clear base material -- Nitro's FH Base takes the abuse of rail and urban riding like no other.
Graphics
Artwork – Steven Stone
Binding Compatibility
2 x 4 Insert Pattern