Rocker Type
Gullwing Rocker – A hybrid Camber/Rocker profile in a league of it's own, Gullwing offers the best of both worlds for the All-Mountain Destroyer. The Positive Camber under each foot supplies riders with the response they know and love while the Reverse Camber Profile in the center allows you to experience unparalleled float in the Powder, as well as superb press-ability in the Park. This Do-It-All design allows you to have a Quiver of one and ride the Mountain including the Terrain Park.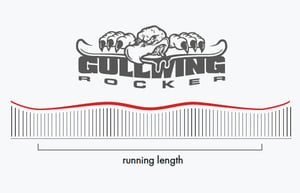 Flex
All Terrain: All Mountain Pop – Nitro's most versatile flex pattern, combining Nitro's signature pop with smooth response, allowing you to tear up the entire mountain.
Shape
Directional Twin
Radial Sidecut – The simplest and most common of all sidecuts: one single radius makes this sidecut extremely versatile and predictable.
Core
Powercore II – The Powercore II is a tip-to-tail poplar wood core with additional beech wood stringers for unrivaled strength, smooth response and insane snap.
Laminates
Bi-Lite Laminates – Nitro's rider-trusted Bi-Lite Laminates are engineered for unrivaled strength, powerful style and refined board-feel.
Base
Premium Extruded FH Base – Easy and versatile, this durable, speedy and low maintenance all in one ultra base material - Nitro's FH Base takes the abuse of rail and urban riding like no other.
Binding Compatibility
2 x 4 Insert Pattern