Baseplate
Contact Pro Base – Extremely high strength-to-weight ratio. Made of Dupont™ Zytel® ST making the baseplate durable for endless shred.
Dupont™ Zytel® ST – The highest-quality nylon is used on all Union baseplates to result in strength, safety and security.
All-New Multi Density EVA Bushings – Multi-zone full bottom bushing system for a stronger, better baseplate.
Highback
Contact Pro Highbacks – Incredibly light and comfortable, Gigi Ruf approved. Symmetrically made for an even and controlled response.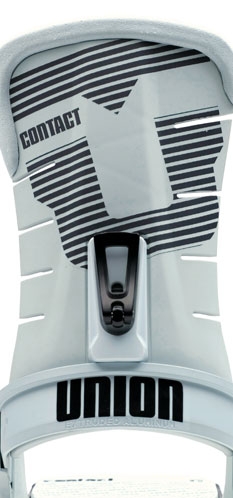 Shift-on-the-Fly Forward Lean – Quick and easy to use, adjust the forward lean with a simple flip of a knob then slide it to wherever you want and re-lock it. Easily done while waiting in those pesky lift lines.
Straps
3D Direct-Connect Strap System – Multi-Layer Tapered Strap Core evenly distributes pressure.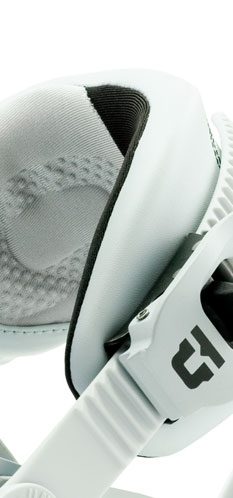 Multi-Layered Tapered Strap Core
Magnesium Buckles – The magnesium in the buckles is four times the strength of aluminum with only half the weight. Plus, it is easily recycled.
All-New Toe Buckle System – Multi-positional options with open Ultra Grip™ Design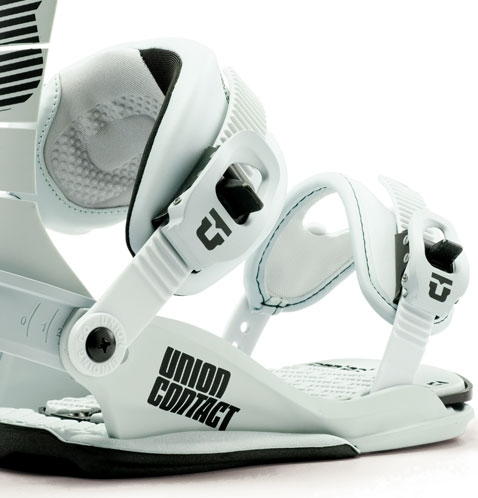 Additional Features
All-New Extruded 3D Aluminum Heelcups – This process removes material to reduce weight but maintains strength.
Grade 8.8 Hardware – The most commonly used hardware is made from "mild steel" that has a property class of only 4.6. Considering how much stress a binding goes through, Union uses only the highest-strength steel, with a property class of 8.8.
All-New Universal Mini-Disk – Fits on every board, including the Burton Channel System just with a minimal contact frootprint design to allow even board flex. Mini, but tough as nails.
Tested and approved by Gigi Rüf