Flex
Response Rating: 7 – Quick response without being overly stiff.
Baseplate
Carbon Reinforced FTI EVO 2 AIR Chassis with Board Protection Corner Dampening – Double Air technology meets FTI, featuring Nitro's Mini Disc to maximize the available dampening area. Newly redesigned with added heel corner dampening, the FTI EVO 2 AIR features huge cut-outs for airbags in the toe and heel to bring the weight down while a new coring pattern enhances strength and response. Equipped with a super cush CANTED DUAL DESITY EVA padding as well as all the best features from the FTI chassis , such as stance fine adjustment and quick heelcup micro adjustment.
2 x 4 Mini Disc with Angle Lock Feature – Nitro's completely redesigned, signature Mini Disc with additional features. Weight has been reduced using a fiber-reinforced composite material, allowing the binding to be mounted and micro-adjusted on any common 2 x 4 insert pattern. The smaller disc means more space to cushion your ride without sacrificing adjustability while the small mounting footprint, combined with a slightly softer material, significantly reduces the binding's impact on board flex. Mounting your bindings just got easier! - The new angle lock feature allows you to set your binding angle before mounting it to your board without losing your setting in the process.
Canted Dual Air Dampening with Cushion Pillows – The canted DUAL AIR dampening throughout the entire bindings lets you land deeper, feel more comfortable, and saves your knees to ride another day.

Canted Dual Density Ergo Base Padding – Nitro was able to insert canted dual density ergo base padding, that will absorb icy park landings and huge street drops, taking the impact instead of your back, knees and ankles.

Highback
Asym X-Beam Highback – Nitro's Asymmetrical highback designs are built for the quickest response from rider to board. The Asym design better accommodates today's stances from 21 inches and up. To ensure maximum response and to align the pressure to the middle of the boot, the highback support axis is shifted 5 degree inwards. The result is better edge hold, more comfort and lighter weight.
Straps
Profiled Asym Ergo Cut Ankle Strap with Flex Window – The Asym Ergo Cut features an asymmetrical shape, providing more medial flex for freestyle riding while supporting the lateral side of the boot. Combined with a tapered thickness profile, this strap is the ultimate in control and freedom.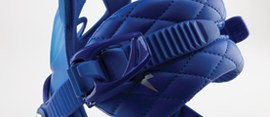 Cable Connector Strap – The cable connector strap features an internal stainless steel cable to eliminate stretch and breakage while retaining full flexibility and tool free adjustment.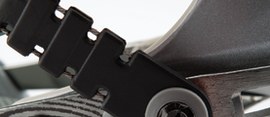 Revert Window Toe Strap – The Revert toe strap construction follows the shape of any boot's toe box. You can wear it either in front of your boot to pull the foot back and down or traditionally, over the top of the boot, like a conventional strap - easily converted, tool free, in seconds!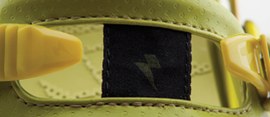 Forged Speedwheel Aluminum Buckles – The strongest and lightest aluminum lever construction with the smoothness of a composite Speedwheel. These buckles work like a dream and last forever.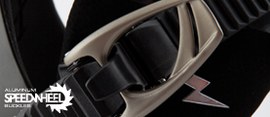 LSD - Ladder Speed Device - Alignment – This little buddy aligns your ladders right into the buckles for an ultra-fast, precise bite of your buckles. You will trip out on their performance.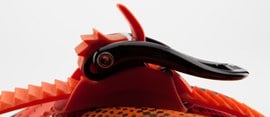 Cable Ratchets – The team loves the cable connector for its durability and zero stretch. Now you can benefit from the same concept on the ratchet side. Stainless steel cables are over molded inside the tongue - no more stretch, no more breaks.