Tour Mode
Interface – A wide support cradle increases tour mode rigidity, while an offset cradle allows snow to clear during entry. The tour mode clip locks the binding's sleeved touring pin in the cradle for the most secure touring connection possible.
Dual Height Riser Base – Adjust your riser angle with Dual Risers for the perfect fit. 70 mm climbing wire comes standard with optional 55 mm and 85 mm climbing wires availiable.
Axle System – Independent sleeves that rotate freely on a fixed through axle (similar to a bike axle) for the stiffest and smoothest touring pivot
Heel Lock Down – Karakoram Heel Lock Down Technology will allow splitboarders to skate out of flat areas, side-step up small hills and traverse demanding side hills. The heel lock down is integrated into the climbing riser wire and base for a simple and unobtrusive design.
Quick release touring bracket allows for quickest and simplest transition
No removable parts ensures you won't lose any key components.
Baseplate
Active Joining Technology – Five spring-loaded attachment points create a solid connection between the bindings and Ride Mode Interface. Pre-loading every interface delivers seamless transmission of rider input for the ultimate backcountry experience.
Cored Out Heelcup – Made from a high strength Aluminum Alloy that is over 2x stronger than standard Aluminum, which is cored out using CNC to remove unnecessary material to maximize the strength-to-weight ratio.
Heel stay pins push through attachment loops driving snow and ice build-up out of the way.
Wide contact points to improve responsiveness between the bindings and board
Pins made from Titanium for 1/2 the weight of stainless while being 3 times stronger
Straps
3D molded Super Foam Ankle Strap
Air Strap – Lightened and simplified, the Air Straps are based off of a snowshoe strap for the lightest and tightest fit around.
Dual pivot ratchets
Highback
Carbon Fiber Highback – Featherweight performance due to the biaxial weave carbon fiber and multi-layer composite layup, which gives you an optimal combination of stiffness and comfort.
Stiff flex
Ride Stride – Designed to save energy, Ride Stride allows for a -8° forward lean in walk mode for a more natural range of motion. Transition into Ride Mode by simply rotating the forward lean adjuster 90° to your preset forward lean setting.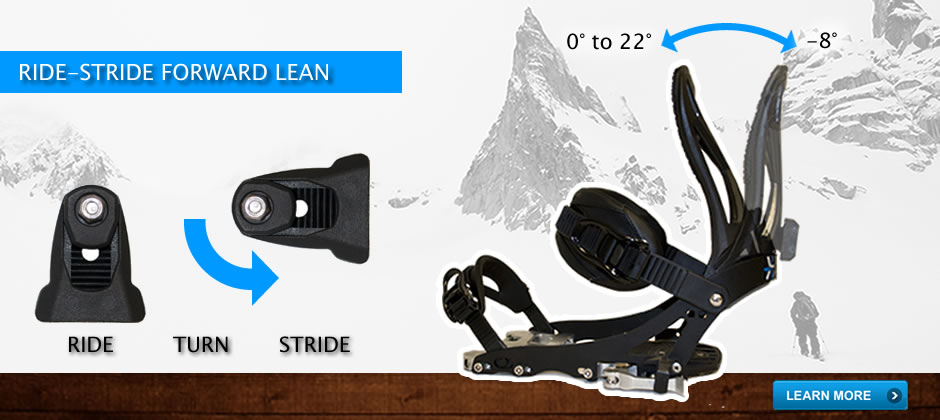 Additional Features
Removal of bindings not required to change from snowboard to skis
Uses factory standard splitboard hole pattern and comes with DIY mounting template