Rocker Type
Backseat CamRock – Backseat CamRock gives you everything you need to slay your backcountry line. There is a touch more rocker in the nose to add float and improved maneuverability, matched with a small set-back camber between the bindings to keep your snowboard responsive.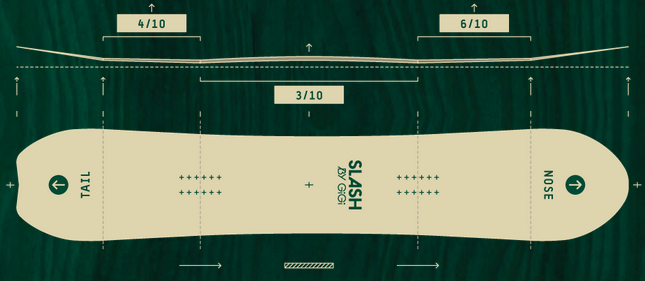 Flex
Responsive – A mid-stiff board that will give you the precision needed to excel in any snow conditions
Reactive Flex – The most advanced board technology available today! A composition of two unique fiberglass lay ups in combination with Slash's new lightweight wood cores that are specifically assembled and profiled by Slash engineers in Switzerland. Reactive flex gives the board the ability to also flex across the width. So, however you bend the board it will react in the best way possible. For example, if you jump on a park rail for a boardslide, the board's edges lift up, creating a convex base which minimizes your chance of catching an edge. The board edges flex downward, creating a concave base which makes your edge bite more into the turns. This is automated flex in 3D!
Shape
Directional – Made for freeriding and powder days, this directional shape will make your board slice through anything and increase floatation.
Slick Tip Profile – By reducing the wood and fiberglass in the nose and replacing it with a denser wood core, Slick Tip technology allows Slash to significantly lighten the board while increasing strength and durability. The Slick Tip also dampens vibrations and provides a unique, light feel in turn transitions due to its reduced thickness and profile.
Core
Forever Wood – Combining four different lightweight wood species: paulownia, spruce, beech, and poplar to create a premium wood core that reduces weight while increasing reactivity, pop, and longevity in extreme conditions. Slash only uses European FSC wood species assembled and profiled in Slash's own Swiss woodshop to get the best precision in conjunction with the Reactive Flex Technology.
Laminates
Landing Strip – 2 strips of bacon flavored Kevlar and Carbon placed from the tail to the inserts and from the nose to the tip of the inserts. This will reduce high velocity quivers.
Base
Base 9900 – Racing-9900, the fastest and most dense sintered base on the market today. It also provides the most impact-resistant surface available. This performance base will allow you to lead the pack wherever you are headed. Its high-density molecular structure holds wax longer.
Diamond Stone Finish – Diamond-structured stone grinding is the best possible base finish. The grinding occurs on two axes to maximize glide and to optimize the durability of the base. It eliminates the slow, suction feel that come with one dimensional base finishes. This is just an extra step Slash takes to ensure your board performs.
Edges
Ultimate Traction – A small counter radius (bump) placed in the middle of the board's sidecut. By positioning this bump instead of using a traditional sidecut, Slash has improved edge hold and center stability by not solely relying on the board's outside contact points. You will have more control of your board especially on ice, less fatigue turning the board and lots more fun!
Edges – Slash edges have 35% more steel than stock edges from other companies. They are quite simply stronger and more durable than the alternatives. They feel substantial and will take a beating.
Additional Features
Kick Stand – Slash's identity shape saves material and weight but also stands up without tipping over like rounded boards do!
Tip Protectors – Thin and light, but surprisingly strong, aluminum protectors on the tail and/or nose protect the board from damage that can result from impacts. This small detail makes a big difference for the durability of the deck, especially if your repertoire is more park/urban focused.
Binding Compatibility
2x4 Binding insert