Rocker Type
Backseat CamRock – The Backseat CamRock design places rocker in the nose and a slight amount in the tail with positive camber in between. This setback design delivers camber stability and control between the feet and in the tail, with the added float and maneuverability of the rockered nose.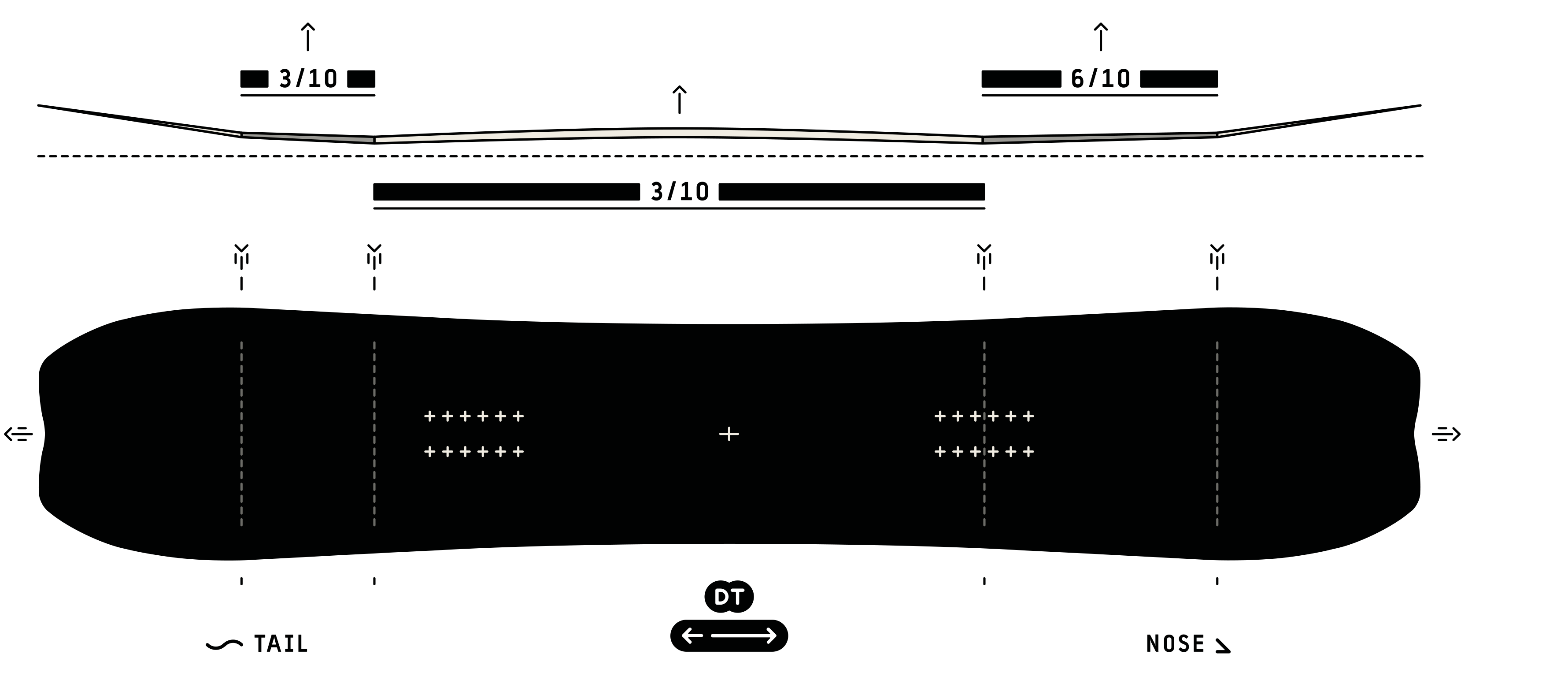 Flex
7 – (1 Soft - 10 Stiff)
Reactive Flex – A unique two-strand fiberglass blend that in combination with wood cores promotes flex across the width of the board as well as tip-to-tail. This gives the board a more reactive ride overall. When boardsliding a rail it helps you lift the edge slightly so you don't hang up. When railing a turn, it helps bite down further with more power.
Shape
Progressive Sidecut – Slash's progressive sidecut design blends many radii and smooth contact points for buttery smooth turn initiation, edge-to-edge transition and edge hold. It's different for each model and matches the sidecut to the board's specific camber profile.
Ultimate Traction – This small counter radius (bump) placed in the middle of the board's sidecut improves edge hold without creating drag or strange edge grip. It adds extra bite on ice and turns regular turns into confident carves.
Core
Powder Woodcore – Composed of low-density paulownia and poplar woods for their optimal strength and weight, with beech hardwood strips placed through the inserts and along the rails increase core durability, pop and impact protection. The Powder Core is light, lofty, tough and designed for powder float.
Laminates
Landing Strip – Strips of Kevlar® and carbon fiber placed from the inserts to the tips in the nose and tail to support landings and reduce washouts. This design also helps dampen high-speed chatter, offer stability and load up potent ollies.
Base
Sintered HD Base – Thanks to the addition of carbon and its high-density molecular structure, this sintered HD base provides superior impact resistance and enhanced wax absorbency for sustained speeds.
Diamond Stone Finish – Slash adds a slight diamond-structured stone grind to the base to maximize glide and optimize durability. It eliminates the slow, suction cup feel that comes with one-dimensional base finishes.
Binding Compatibility
2 x 4 Insert Pattern