Rocker Type
CamRock – The CamRock technology will help you dial in your entire bag of tricks by giving you all the pop you need to ollie over anything that lies in your path. We added flat spots outside of the bindings toward the tip and tail which allow you to load up your pop without sacrificing the playfulness of the CamRock design. The camber between your feet gives you stability and responsiveness in all conditions and terrain types.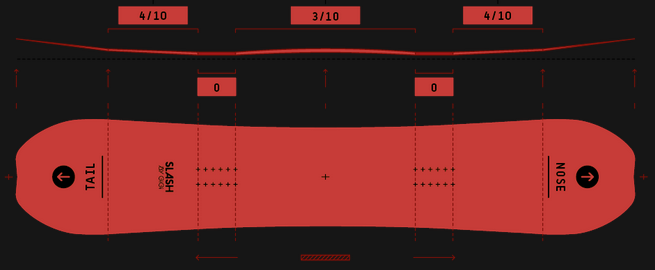 Flex
Soft – Made specifically for park junkies and progression
Twin Flex – Having a twin flex indicates that your board is perfectly symmetrical in flexibility from tip to tail so you gain a more balanced and predictable ride.
Shape
Twin – Designed with freestylers in mind, the nose and tip have exactly the same dimensions and the stance is centered, so the board performs equally well regardless of your direction. Built to allows riders to jib, spin, stomp and butter, it not only gives you the pop you need, but the pop you want. Regular or switch, it doesn't matter, it's all the same.
Core
Snap Crackle Pop – This core is made out of alternating poplar and beech stringers that give it strength and liveliness. Slash's Swiss engineers also inlaid 4 sections of sturdy spruce into the tail and nose area to increase precision and get the best pop out of the board. Slash uses this in the park and street specific boards.
Laminates
Triax Fiberglass – Provides superior pop, consistent torsional flex, and more overall response
Sweet Spot – 2 cross-shaped carbon fibers placed from the contact point of the nose and tail to the middle of the inserts. This configuration increases POP and strength, bringing more place into your riding.
Base
Belt Finish – Slash's standard belt finish. It gets the base optimized before we fully wax the board.
Base 6000 – This sintered base is fast, dense, durable, and ready to perform. It has been specially made for all your street and park needs. Most companies use extruded and low density base material so "it can be easily fixed." But wouldn't you rather have a base that you didn't need to fix?
Edges
Edges – Slash edges have 35% more steel than stock edges from other companies. They are quite simply stronger and more durable than the alternatives. They feel substantial and will take a beating.
Ultimate Traction – A small counter radius (bump) placed in the middle of the board's sidecut. By positioning this bump instead of using a traditional sidecut, Slash has improved edge hold and center stability by not solely relying on the board's outside contact points. You will have more control of your board especially on ice, less fatigue turning the board and lots more fun!
Additional Features
Kick Stand – Slash's identity shape saves material and weight but also stands up without tipping over like rounded boards do!
Tip Protectors – Thin and light, but surprisingly strong, aluminum protectors on the tail and/or nose protect the board from damage that can result from impacts. This small detail makes a big difference for the durability of the deck, especially if your repertoire is more park/urban focused.
Binding Compatibility
2x4 Binding insert