Rocker Type
NoHang-Ups Rocker – Flat camber diamond under foot for control and pop with 3D Continuous Curvilinear Rocker in the nose and tail for easy pressing and playfulness. Perfect camber for progression.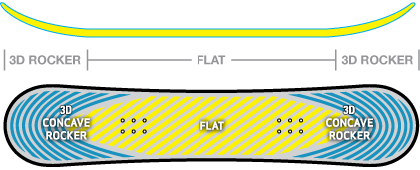 Shape
Almost Twin – Similar to true twin with the exception being the nose is slightly longer than the tail for better float in powder
Core
Glass Single Barrel Hotrod Technology – A 4 mm glass HotRod inserted in the core for adding more pop into your ollies and nollies. Milled into the center of the board from the inserts to the center of the contact points, nothing can deliver more explosions from under your feet to where you load ollies and nollies.
SuperPop Core Matrix – Three zones of low-density wood with extended segments of poplar for a light and smooth flex transition and a highly responsive snappy pop feel

Laminates
Glass Impact Plates – Thin reinforcements beneath your bindings to increase strength against core compression caused by bindings
StraightTriax30 – The laminate that covers all the bases, from the park to all-mountain peaks, the 30 degree off-axis fibers set the personality of the board to flex into low speed butters and pop into high speed takeoffs. It provides some extra kick in a slash and maintains your style while getting creative on and off the trails.

Base
Die-Cut Base – Base color displayed may not be available. Base colors may vary.
SinterTrue Base – Strong and wax absorbent sintered base allows for an average day of all mountain and park riding.
Edges
Butterout Transition Zones – Rome elongated and mellowed the curve of the edges at the contact point. This creates a playful feel on the snow and lets you get greasy on rails.
Quickrip Sidecut – Two additional mid-board contact points between off-set sidecuts for added grip at high speeds. Or, engage the inner contact points at slower speeds for a playful, shorter feeling board with control. QuickRip is a Rome signature technology for power when riding fast and extra fun when slowing things down.