Rocker Type
MtnPop Rocker – Rocker between the feet with positive camber in the nose and tail offering plenty of float in powder and the fun and playfulness of rocker while maintaining power and response from the positive camber in the nose and tail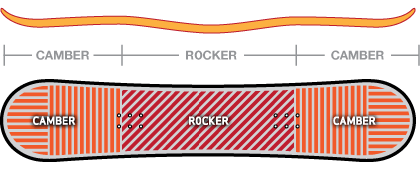 Flex
Flex Rating: 5 (1 Soft - 10 Stiff) – A medium flex for a mix of playful and powerful riding.
Shape
True Twin – Everything from the center of the board out towards the nose and tail is exactly the same. Perfect for riding switch
Sidecut
QuickRip Sidecut – Advanced sidecut geometry gives a short, playful feel at slower speeds and a longer, faster and more stable feel at higher speeds. The mid-board contact points end the running length at slow speeds and add grip at high speeds.

Core
HotRods: Glass Single Barrel – A thin glass rod is milled into the centerline of the board under the bindings and out towards the nose and tail, which provides more pop, without adding any unwanted stiffness.
Laminates
Basalt Impact Plates – Thin reinforcements beneath your bindings to increase strength against core compression caused by bindings
StraightBiax Carbon Laminate – 90-Degree biax fibers give a solid foundation for freestyle fun. Carbon decreases weight and adds flex to add height to ollies for bigger pop.

Pop Core Matrix – Two zones of lightweight wood paired with a body of responsive poplar make for a smooth and fun board for freestyle riding, and give snap and pop for all mountain riding.

Base
SinterTrue Base – Strong and wax absorbent sintered base allows for an average day of all mountain and park riding.
Binding Compatibility
Rome Snowboards will accommodate 2x4 and 4x4 insert patterns.