Rocker Type
MtnPop Rocker 2.0 – Rocker between the feet and positive camber in the nose and tail. Rome fine tuned the amount of rocker between the feet to just make contact with the snow when the rider is not standing on the board. The result is more than enough float and playfulness from the rocker, while still allowing the positive camber in the nose and tail to deliver responsive power. Great for riders who like the best of both worlds - responsive turning, solid landing, powder floating and nimble control.

Shape
QuickRip Technology – The goal with QuickRip Sidecut is to create a board that does two things: stay nimble and maneuverable at slow speeds, and maintain power and precision at high speed. This is achieved by integrating two off-set sidecuts that create one sidecut zone in the nose, one between the feet, and one in the tail. Where the center section meets the other two sections, Rome has created Mid-Board Contact Points.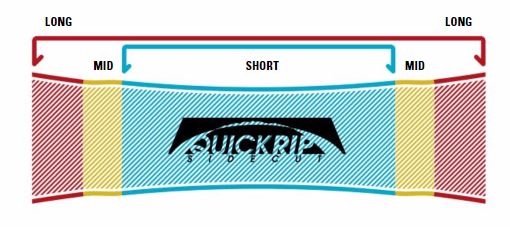 True Twin
Core
Pop Core Matrix – Do-anything performance that balances lightness, response, and strength with two zones of low-density wood.
Laminates
StraightBiax Laminate – 90 Degree fibers create a fun playful flex perfect for cruising, lapping park, or ripping bowls.
Bambooster Technology | Dual Inline – Two flat strips of bamboo increase ollie pop and increase response off edge.
Base
XTRD – Strong, fast, and easy to fix. Extruded base.
Binding Compatibility
2 x 4 Inserts