Rocker Type
NoHang-Ups Pop 2.0 – Using Rome's unique Diamond and 3D Continuous Curvilinear Rocker (CCR), Rome builds a camber that optimizes the responsiveness and control of positive camber underfoot, and the loosness of rocker at the nose and tail. The Diamond is the key. In the Diamond, Rome puts full-width positive camber between the feet and then extends camber in the centerline to the contact points in the tip and tail. This powers a rocker feel with directional control and a ton of power down the centerline of the board. Outside of the Diamond, Rome's 3D CCR elevates the nose and the contact points off the snow. Great for all-mountain snowboarding in all types of snow.

Shape
Almost Twin
QuickRip Technology – The goal with QuickRip Sidecut is to create a board that does two things: stay nimble and maneuverable at slow speeds, and maintain power and precision at high speed. This is achieved by integrating two off-set sidecuts that create one sidecut zone in the nose, one between the feet, and one in the tail. Where the center section meets the other two sections, Rome has created Mid-Board Contact Points.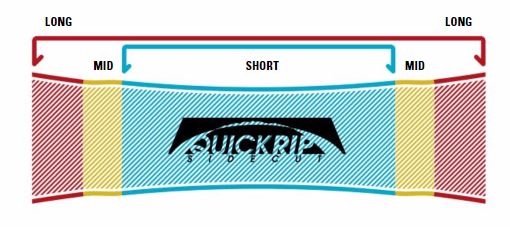 Core
SuperPop Core Matrix – The lightweight, super responsive core found in many of Rome's higher performing boards, this matrix features poplar for power and three zones of low-density wood for lightness.
Laminates
90/90 Carbon Hybrid Laminate – New to this year, Rome integrated thin bundles of carbon into a biaxial glass on top and baxial layer on the bottom.
Z-Tech 1.0 – Centerlin Zylon, in a one inch strip, adds ollie power and lengthwise overall pop.
HotRods | Carbon Single Barrel – A single rod of carbon milled into the centerline of the tip and tail for higher ollies, stronger slashes and stompier landings.
Base
SinterTrue Base – Fundamental sintered performance, this base fuels the speed of many of Rome's mid-level freeride and park boards.
Binding Compatibility
2 x 4 Inserts