Rocker Type
NoHang-Ups Rocker – 3D camber profiling in the nose and tail with a positive camber NoHang-Ups Diamond that ends 20 mm before the end of the running length: These boards blend the playfulness of the 3D rocker with more pop in the nose and tail and more anti-revert control when landing spins.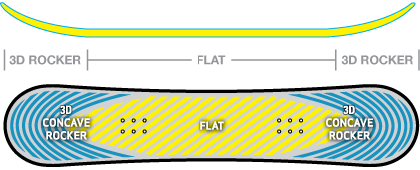 Flex
Flex Rating: 2 (1 Soft - 10 Stiff) – A soft flex for freestyle and a very playful feel
Shape
True Twin – Perfect for freestyle ridding
ButterOut Transition Zones – Smooth as butta'; this drawn out transition zone is a playful take on Rome's classic design, creating a play-a-round freestyle board, guaranteed to fuel your snowboard addiction.
Sidecut
QuickRip Sidecut – Advanced sidecut geometry gives a short, playful feel at slower speeds and a longer, faster and more stable feel at higher speeds. The mid-board contact points end the running length at slow speeds and add grip at high speeds.

Core
PopCore Matrix – Low density wood in two zones through the board for a lightweight profile with a flexible poplar matrix
Skatecore Profiling – This is a core profile that is thinner and softer between the feet and stiffer in the nose and tail. The result is a ride that feels like a pair of trucks when turning and ollies more like a skateboard.
Laminates
HotRods – A Glass Single Barrel is milled into the core under the bindings and goes out towards the nose/tail to provide for snappy pop and fast response.
StraightBiax – Designed for the fun and creative rider, this laminate has a forgiving response through presses, jumps and jibs.
Glass Impact Plates – 2x more compression resistance under your bindings to combat the abuse of landing on hard objects
Base
Impact Base – Rails, rocks and trees mean nothing to this base. Constructed of the strongest abrasion resistant compound, this advanced extruded technology with a high density structure holds up to what you can dish out.
Binding Compatibility
Rome Snowboards will accommodate 2x4 and 4x4 insert patterns.