Rocker Type
Stay Positive Camber – The super responsive, high-pop feel that only all-around positive camber can deliver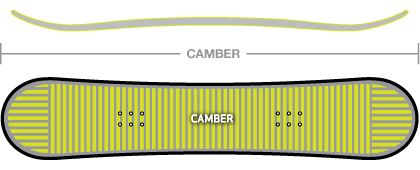 Flex
Flex Rating: 8 (1 Soft - 10 Stiff) – A stiff flex for powerful turns and lightning quick response
Sidecut
Directional Twin – Good for those who ride all-mountain, from groomers to park
Core
SuperPop Core Matrix – Three zones of low density wood with extended segments of Poplar create a light, smooth transition of flex and and a snappy reply of pop.
HotRods: Carbon Single Barrel – Super light and responsive, a single rod of carbon in the center of the nose and tails adds ollie and nollie pop without adding any torsional stiffness.
Laminates
StraightTriax30 – The laminate that covers all the bases, from the park to all-mountain peaks, the 30 degree off-axis fibers set the personality of the board to flex into low speed butters and pop into high speed takeoffs. It provides some extra kick in a slash and maintains your style while getting creative on and off the trails.

Basalt Impact Plates – Impact plates deliver anti-compression under your bindings. Durable as a rock, these basalt plates can take whatever you got from heavy drops to big jumps.
PressurePop Technology: Basalt Reverse V – Eco-friendly fibers compressed and directed take rider energy from the bindings to the centerline of the board in the nose and tail for ollie and nollie explosions without making the board more torsionally stiff.
Base
SinterSpeed Base – Bomb hills and straight-line runs. By absorbing the most wax a base can handle, this ultra porous sintered technology creates a board with maximum speed output, and minimal input.
Edges
Impact Edges – Extra width and height makes a beefed up edge to take more abuse and hold up to all day runs and night time rail excursions.
Binding Compatibility
Rome Snowboards will accommodate 2x4 and 4x4 insert patterns.