Rocker Type
MtnPop Rocker 2.0 – Rocker between the feet and positive camber in the nose and tail. Rome fine tuned the amount of rocker between the feet to just make contact with the snow when the rider is not standing on the board. The result is more than enough float and playfulness from the rocker, while still allowing the positive camber in the nose and tail to deliver responsive power. Great for riders who like the best of both worlds - responsive turning, solid landing, powder floating and nimble control.

Shape
QuickRip Technology – The goal with QuickRip Sidecut is to create a board that does two things: stay nimble and maneuverable at slow speeds, and maintain power and precision at high speed. This is achieved by integrating two off-set sidecuts that create one sidecut zone in the nose, one between the feet, and one in the tail. Where the center section meets the other two sections, Rome has created Mid-Board Contact Points.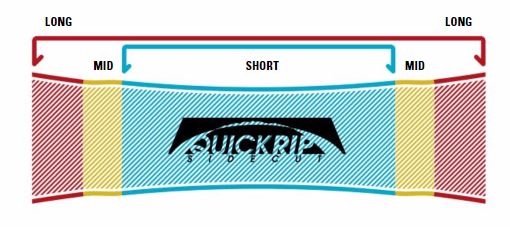 Core
SuperPop Core Matrix – High-end response from three zones of lightweight wood and long, snappy sections of poplar.
Laminates
TurboRods | Carbon Single Barrel – A single rod of dynamically-flexing carbon in the centerline for longitudinal pop without unwanted torsional stiffness.
Z-Tech 1.0 – Centerlin Zylon, in a one inch strip, adds ollie power and lengthwise overall pop.
StraightTriax 30 Laminate – 30 Degree off-axis fibers lay down the perfect flex for freestyle fun and freeriding response.
Sidewalls
Good Vibes Sidewalls – Rome takes two segments of traditional ABS material and sandwich it above and below a mid-layer of elastomeric material. This does two things. First, it smoothes out the ride, giving the board a chatter-free feeling on edge. And for strength, the mid layer of elastomeric material absorbs shock to reduce sidewall damage.
Base
Sinterspeed Base – A high-end sintered compound, this base retains wax for elite levels of speed and durability.
Edges
Impact Edges
Binding Compatibility
2 x 4 Inserts