Rocker Type
Directional Rocker – A hybrid rocker/camber flex pattern defined by more tip rocker then tail rocker and slight camber between the bindings. The rockered tip gives the nose added float and improves maneuverability while the camber underfoot gives you added edge hold and response. A slightly rockered tail maintains the power and stability of a traditional board but helps keep the tail catch free initiating turns and landing switch. "My experience is that most falls in freeriding start from the nose of the board - you either go over the bars in powder, the nose gets caught under a weird crust and tosses you, or you hit a hard tranny at the contact point of the tip and get bucked. Directional Rocker eliminates most of these falls." -Jeremy Jones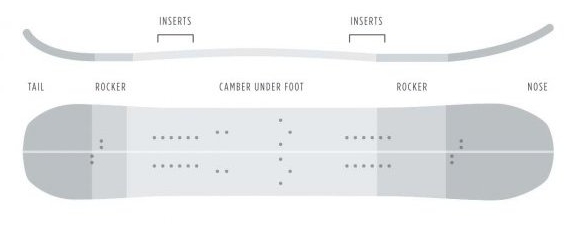 Shape
Blunt Nose – "How a board glides in powder, crust, corn, or any snow condition more then an inch deep is dictated by its front contact point and just past it. Next time you are in soft snow watch how much snow comes over the corner of the nose near the contact point. The billowing snow means you are plowing through it which is obviously slowing you down. By adding a blunt nose you get the float benefits of a much longer board tip without the added length or swing weight." -Jeremy Jones.
Core
FSC® Wood Core – The FSC® wood cores come from forests that are managed to meet the social, economic and ecological needs of present and future generations. ALL Jones Snowboard Cores are FSC®.
Hard Core (Poplar / Beech) – Jones' signature core, the Hard Core, is a hybrid wood core designed for the ultimate pop, power transfer and durability. Featherweight Poplar stringers in the middle of the core are framed with bulletproof Beech stringers under the edges to produce a core that combines the snappy, even flex of Poplar with the damp responsive benefits of Beech. Framing the sides of the core in the Beech Hardwood creates unparalleled energy transfer to your edge and helps protect the board from harsh side impacts.
Laminates
Carbon Quadrax – Jones' signature laminate composition, Carbon Quadrax features multi-layered, multi-axis fiberglass meshed with dual-zone carbon fiber power bands. The carbon power bands in the nose and tail dampen vibrations and create supreme longitudinal and torsional snap which keeps the board stable at high speeds and on steep terrain.
Base
Sintered Base – Fastest natural base material available. Durable, absorbs wax faster and retains wax longer.
Flip Flop Base – By flip flopping the base graphic colors, P-Tex waste is drastically reduced by increasing the material yield.
Stone Ground Finish – Adds texture to the base and helps to displace water, which makes your snowboard ride faster.
Edges
Mellow Magne-Traction™ – Maximizes your edge hold between your feet so you have better control and stability even on the iciest slopes. Magne-Traction™ varies in the serration depending on the board; regardless it will deliver a catch-free ride any day. "Magne-Traction™ is a key ingredient for rockered board designs. Adding rocker to your board makes it glide more smoothly, but it makes it harder to really lock into your turns and hold a solid edge. Magne-Traction™ is crucial to offset the drift typical of rocker flex patterns." - Jeremy Jones.
Stronger Edges – Jones added 35% more steel than a typical edge, what this achieves is a 250% increase in impact resistance compared to other edges offered on the market today
Topsheet
Wood Topsheet – The Wood Topsheet dampens the ride for chatter-free performance. The natural material also eliminates some plastic and lacquer which cuts down on waste and weight.
Additional Features
Karakoram Hardware – All Jones Splitboards exclusively feature Karakoram Hardware.
Alu Protect – State of the art strength aluminum tip protectors. Elastomer is bonded to the aluminum to absorb vibrations.
Binding Compatibility
Compatible with Karakoram and Voile split board binding systems