Rocker Type
C2 BTX Agro Performance Banana / Camber – Rocker between your feet combined with radial cambers out to the contact. Aggressive riders enjoy unreal tip and tail control, power and pop combined with the float, freestyle freedom and carving of rocker between the feet.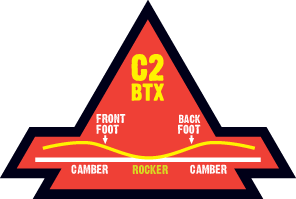 Flex
Flex Rating (1 Soft - 10 Stiff) – 7
Shape
Twin freestyle / freeride geometries
Core
Core AP2 – Aspen Paulownia laminate
Sustainable Natural Fiber – GNU builds boards with fast growing farmed eco woods selected specifically for their long fibers, light weight, strength, long lasting pop and great feel. Wood is Nature's fiberglass.
Laminates
LCP Liquid Crystal Polymer Fibers – LCP was used as the foundation for the interplanetary Mars lander tires. Built into GNU snowboards these strong light, damp aramid polyester fibers quiet chatter from rough Martian terrain and create an incredibly smooth, poppy, lightweight ride.
Sidewalls
Fast, rugged UHMW sidewalls
Base
Sintered Base – Compression hardened amorphous UHMW skived from the billet to create the toughest, fastest, best wax holding base material around. This base slides best and fastest when waxed regularly to match local snow conditions.
Edges
Magne-Traction™ – The hot commodity in edge-technology; Magne-Traction maximizes your edge hold between your feet so you have better control and stability even on the iciest slopes. Magne-Traction varies in the serration depending on the board; regardless it will deliver a catch free ride any day. Magne-Traction™ features 7 strategically located and sized bumps along each side of your sidecut.
Topsheet
Bio Beans Topsheet – GNU has made a commitment to using a new earth friendly, bio-plastic top skin made from beans that features the highest strength-to-weight ratio of any top sheet in the industry. While there is clearly still the need to invade small, helpless, oil producing countries for money and power, this new age of bio-plastics offers hope of a more peaceful and fruity future.
Graphics
Snowboard artist Adam Haynes's interpretation of the Mervin factory
Binding Compatibility
4x4 insert pattern