Rocker Type
S-Rocker™ – Burton's S-Rocker™ blend has more rocker towards the nose and subtly transitions into a cambered tail. By having more lift in the nose, you get improved flotation while maintaining speed through deep powder turns and ample stability in variable conditions.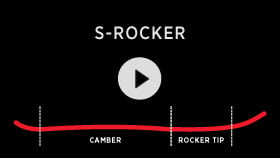 Flex
Directional Flex – Burton's directional flex snowboards feature increased pop coming from the tail. The nose is less flexible, this allows you to easily maintain control and keep your tip up in pow.
Shape
Directional – Directional is the original snowboard shape. It is designed with a slightly longer nose, to concentrate the pop in the tail. This board will give you plenty of floatation, fluidity, and control to rip.
Taper: 15 mm – A tapered shape means the nose is wider than the tail, promoting smooth turn entry and exit, stability at speed, and enhanced deep snow flotation.
Pro-Tip™ – A tapered tip and tail thickness reduces swing weight for easier mobility.
Side Effects™ – This patented design lengthens the surface area at the tip and tail contact points to improve edge-hold and allow the board to plane easier in pow. Enjoy a livelier feel and enhanced grip on groomers along with added float for overhead days.
Core
Dualzone™ EGD™ – The wood grain is positioned along the toe and heel edges on two continuous zones, perpendicular to the rest of the wood core, for consistent edge-hold, and added strength.
Super Fly II™ – The Super Fly ll™ core uses stronger and lighter woods in specific areas of the core to provide pop, strength, and reduce weight; creating a further optimized float in Burton's freeride focused boards, and strength in Burton's park-focused boards.
Squeezebox – Burton's Squeezebox improves your boards performance by balancing thicker more powerful core sections in with thinner more flexible sections. In translation, Squeezebox enhances your connectivity to your snowboard which will create an amazingly stable, responsive and predictable ride.
Laminates
Triax™ Fiberglass – This laminate gives the board an asymmetrical flex with lengthwise stiffness. The result is a board that remains smooth and stable.
Carbon I-Beam™ – This ultra-light carbon backbone increases pop and longitudinal snap.
Base
Sintered WFO – Sintered bases are super-fast. Polyethylene pellets are forced together under extremely high pressure. The result is a singular piece of connected pellets with tiny pores across the entire base. Then, Burton infuses a specially formulated wax deep into the pores of this extra-absorbent, high-density sintered base which results in an ultra-durable, smooth and fast base all season long.
Die-Cut Base – Base color displayed may not be available. Base colors may vary.
Edges
Frostbite Edges – Frostbite edges extend out slightly beneath bindings for tremendous edge-hold on hard, icy conditions. Powerful when you need them, playful when you don't, Frostbite Edges are hungry for hard-pack while remaining smooth, flowing, and forgiving.
Additional Features
Nug Raduction™ – Nug Raduction™ aims to optimize every element of your snowboard. From the waist width, flex, sidecut, and running length. This feature allows you downsize (at most) 10 cm from your normal board length (based on weight and height). In translation, you will have a lightweight, lively, maneuverable, floaty, poppy, and stable snowboard to ride at any speed.
Reduction Level 3 – The reduction level 3 indicates you can downsize this snowboard 2 cm - 3 cm from your normal board length. For example, if your board size is 155 cm you can now ride this snowboard at a 153 cm or 152 cm.
Infinite Ride™ – Burton-exclusive technology allows for maximum pop and strength by overbuilding the board, then putting it in a machine that breaks in the board for you. Whether you choose to ride Springloaded, Rocker, or Camber, rest assured that your board will maintain its flex, pop, and feel from the first day forward, season after season.
Binding Compatibility
The Channel™ – Compatible with all major binding companies.