Rocker Type
Triple Base Technology (TBT) – Triple Base Technology divides the nose and tail area into 3 parts: 1. The left sidebase for turning left. 2. The center flat middle base for going straight. 3. The right sidebase for turning right. Combining a full tip to tail classic camber with a rail to rail concave, it gives the looseness of a rocker shape board with the pop and response of camber. On edge, the camber is loaded and ready to pop you into your next turn. Meanwhile, the edge is fully engaged with a solid power distribution along a smooth edge curve.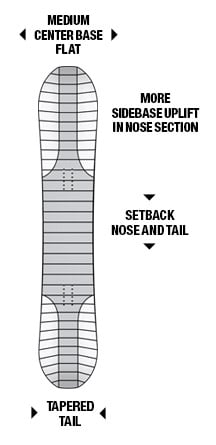 Flex
Flex Rating: 5 – A versatile medium flex. An all purpose flex that allows a smooth transition between freestyle and all-mountain riding.
Shape
Twin – Completely symmetrical geometries and flex from tip to tail
Twin TBT – Twin TBT is great for park riding. The center base section now features a traditional camber (Smoothly curving) rather than trapezoidal camber profile, but TWIN TBT retains a large enough flat base width for easy presses and rail slides. These boards feature longer contact lengths between the feet than JIB or PARK for more stability at speed! Twin TBT is a half-way between the TBT's specialized for riding rails and kickers.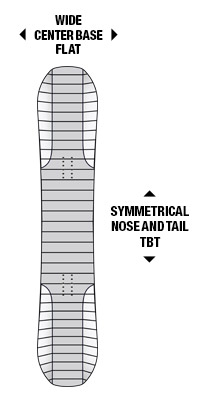 Core
Core Core – Poplar core with hardwood reinforcements along the insert rows. This increases the board's core strength and channels stored energy to deliver more pop.
Laminates
Tri-Ax Laminate – Tri-ax laminates over and under the wood core include fiberglass layers aligned in three directions (two at 45 degrees to the edges and the extra one along the boards length). This generally increases the stiffness and stability of the board to deliver maximum precision in your riding.
Base
Sintered Base – Fast! Great wax absorption and as hard as nails. These bases come with factory wax already infused. Top it off regularly to get the most out of the base.
Edges
Lightning Edge – Thinner lightning edges enable you to carve with more feeling and precision, and they weigh less.
Binding Compatibility
Party Pattern 4 x 2 – The 4 x 2 / 22 pattern offers maximum precision for your binding's position with 22 inserts for a large total stance width range.