Rocker Type
Triple Base Technology (TBT) – Triple Base Technology divides the nose and tail area into 3 parts: 1. The left sidebase for turning left. 2. The center flat middle base for going straight. 3. The right sidebase for turning right. Combining a full tip to tail classic camber with a rail to rail concave, it gives the looseness of a rocker shape board with the pop and response of camber. On edge, the camber is loaded and ready to pop you into your next turn. Meanwhile, the edge is fully engaged with a solid power distribution along a smooth edge curve.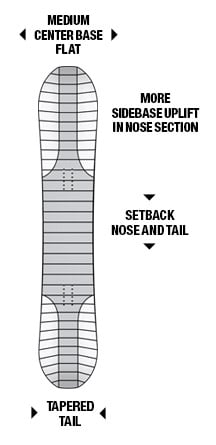 Flex
Flex Rating: 4 (1 Soft - 10 Stiff) – A light medium flex, great for all terrain shredding.
Shape
Pow TBT – Pow TBT is TBT on steroids, with everything maxed out to get that feeling of surfing powder. The same narrow center flat base width as Freeride TBT, but with insane uplift angles on the nose sidebases to give you effortless float no matter how deep it gets! The tail TBT is again setback in line with the stance and features flatter uplift angles and a tapered width, which works with the camel toe shape to put the riders weight right over the back foot without them having to lean back and ensures that more powder is put up into the air on each turn. Unlike most powder specific shapes out there, Pow TBT still holds its own when you find yourself on a slope, where it carves like a dream and is very playful too!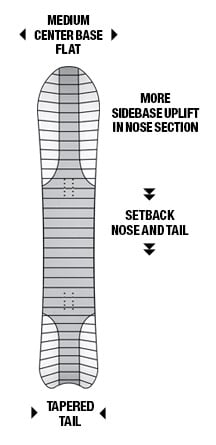 Core
Reactor Core – Poplar core with hardwood reinforcements along the sidewalls. The hardwood along the edges equalizes the force of the turn along the full contact edge, making it less twitchy on harder snow and reinforcing the boards stiffness.
Laminates
Bi-Ax Laminate – Bi-ax laminates over and under the wood core include fiberglass layers aligned in two directions at 45 degees to the edges. This creates an easy and forgiving flex, which allows you to really feel the terrain.
Base
Extruded Base – Easy to repair and takes a beating! Low maintenance and still slides well with irregular waxing, not that the guys at Bataleon are condoning anything other than a militant waxing regime (like Rihanna's).
Binding Compatibility
Precise Pattern – The 4x2 / 20 pattern allows you to attach your bindings with scientific precision.