Flex
Flex Rating: 8 (1 Stiff - 10 Soft) – Stiff flex ratings are for aggressive riders who need ample responsiveness. Carving at high speeds, stomping jumps and hiking in the backcountry, you will benefit from the extra support and foot hold throughout the entirety of the boot.
Endo™ Construction – K2's Endo™ Construction snowboard boots are made out of a urethane structure. In exchange, you are granted with a boot that more even distributes flexibility and energy transmission to reduce fatiguing.
Fit
Internal J-bars – Keeps the foot and ankle in a secure and stable environment
Velcro Pod Closure
Liner
Intuition™ Pro-Foam 3D – High density thermo-forming Ultralon® foam
Lacing System
K2 Double Boa® – Easy to tighten front and side knobs for even tightening / Low friction guides and coiler version auto retracts loose cable
Boa® Conda™ – K2's patented lacing technology that allows you to adjust your liner without untying your boot. Boa® Conda™ offers superior heel retention and replaces ankle straps.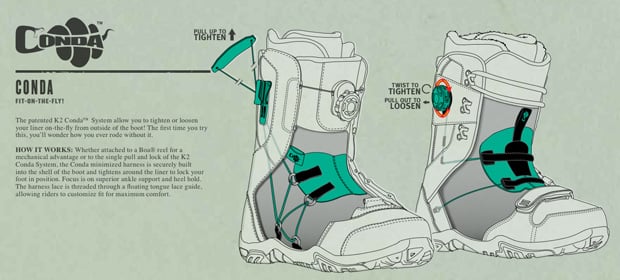 Footbed
3D Molded Dual EVA Insole – Soft and durable sole with Harshmellow™ pods for added comfort
Sole
Vibram® Pro-Light Outsole with Harshmellow™ – Combining Vibram's® 70 years of experience in outsole design with K2's 25 years of snowboarding knowledge provides the very best outsole. Focused on durability, weight reduction, grip and Harshmellow™ dampening