Flex
Flexing Rating: 8 – On a scale of 1 to 10, these boots are an 8, offering a stiff flex rating for optimal control and support.
Fit
Moldable internal J-bars, integrated power strap
Endo™ Construction – Consistent flex and fit for life // A complete rethink of how a boot is constructed and flexes, Endo brings precise, engineered flex that stays consistent from day one through the life of the boot. Also, the 100% urethane Endo structure adds a lively, energetic feel that reduces fatigue and just feels good. The Endo construction is based on a urethane endsoskelital structure that focuses boot structure and flex into a single engineered part. The result is a structure that flexes and returns without breaking down when compared to the stitch and glue construction of traditional boots. You get consistent flex and boot that returns to a neutral riding position quicker and with more energy, which helps you ride longer.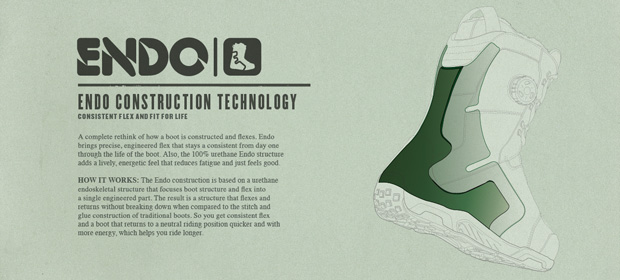 Liner
Intuition™ Pro-Foam 3D – High density thermo-forming Ultralon® foam
Lacing System
Boa® Conda™ – K2 Patented technology that allows you to adjust your liner without untying your boot. Boa®Conda™ offers superior heel retention and replaces ankle straps.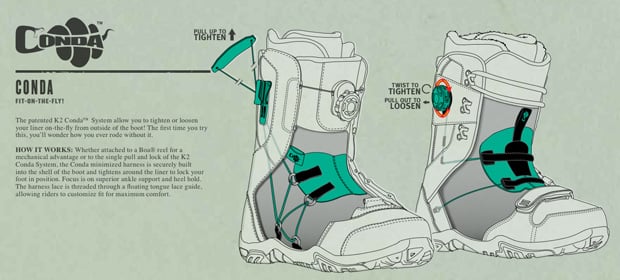 Boa® Coiler – Easy to tighten knob with low friction guides - coiler auto-retracts loose cable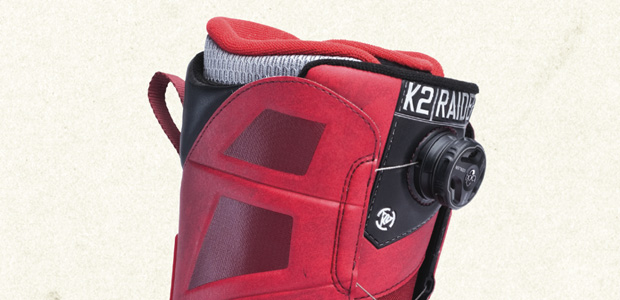 Footbed
3D Formed EVA – Soft and durable sole with Harshmellow™ pods for added comfort
Sole
Kwicker™ Light Outsole – A bombproof attachment with snowclearing, the Kwicker™ sole connects seamlessly with Kwicker™ bindings,