Flex
Flex Rating: 4 (1 Softest - 10 Stiffest) – A medium flex that is forgiving yet still capable of handling some hard shredding
Fit
Women's Specific True Fit Design – Enjoy a more harmonious connection with Burton's True Fit™ women boards, boots, and bindings. True Fit means that every element - from boot liners to lace guides, baseplate to strap designs, boards shapes to flex profiles - has been designed and engineered for the way women ride. Because when it fits right, it rides better.
Crossbone Cuff – Balances the free-flexing mobility of an articulating cuff with lateral support of ultra-light Jumper Cables (the same stuff found in Burton's high-end boards). The benefits of ollie pop and pressing power associated with winged hi-backs are brought to the boot itself, resulting in the ability to power up with less effort, and still get tweak-friendly freedom.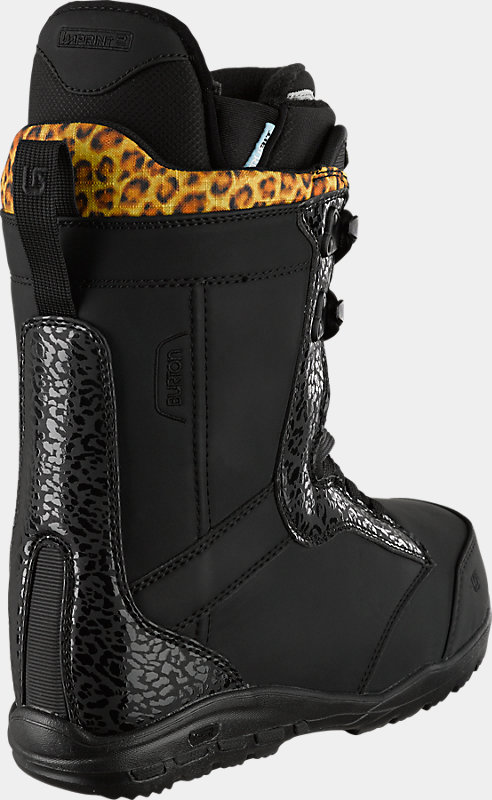 Articulating Cuff – Allowing the upper and lower zones of the boot to flex independently creates fluid forward motion, minimizes shell distortion, and maximizes heel hold and response.
Flex Spine Backstay – Get effortless medial and lateral mobility with ample edge-to-edge support for when it's time to throw down the landing gear.
Stay Puft Tongue Construction – Tuck that knee and tweak it with the smoother forward motion and cush comfort of this progressive flexing upper tongue construction.
Soft Flex Thin Profile 3D® Molded Tongue – Adjusting the profile of the tongue's thickness controls its flex, enhances its ability to wrap, and reduces shell / liner stack-up for improved comfort.
Total Comfort Construction – Get an instantly broken-in feel right out of the box. Total Comfort's industry-exclusive construction eliminates the break-in period for a fit that feels just as good from opening day to day 100.
Liner
Imprint 2 Liner – Lock-up Cuff and Inner Lace Lock // Plush Cuff 1.0 // Lightweight Power Panels // Hot Pockets // Velcro® Liner Closure // Level 1 Molded EVA Footbed // Heat-Moldable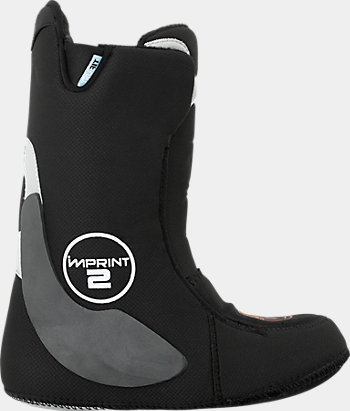 Lock-Up Cuff – This super low-profile inner cuff carries the laces across the forefoot and ankle for ultimate heel hold with effortless entry and exit.
Inner Lace Lock – Quick-lock design keeps your heels locked down all day. Exit's a cinch with the one-handed release tab.
Plush Cuff 1.0 – The Plush Cuff 1.0 hugs your calf like no other thanks to a combination of medial and lateral neoprene stretch zones and super soft fur lining.
Power Panel Technology – To ensure a consistent flex from day 1 to 100, Burton Imprint™ liners feature strategically placed Power Panels that, even after being deeply flexed, return to their orgiinal position.
Hot Pockets – Built to accommodate a disposable toe warmer! Just slip a Little Hotties® toe warmer into the neoprene sleeve on the top of your foot and feel the heat.
Heat Moldable – Whether you have funky cankles or a grotesque sixth toe, your feet will be wrapped with comfort in this boot. Ride them right out of the box or shape them to your foot with Burton's EMU heat-molding system, found at your local shop.
Lacing System
Traditional with Speed Hooks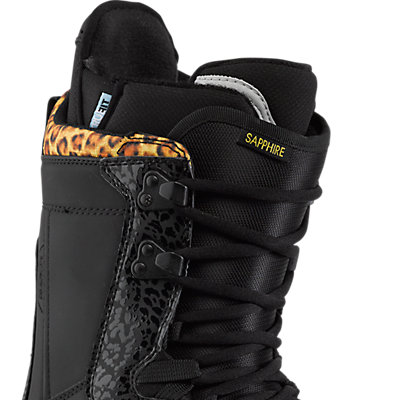 Footbed
Level 1 Molded EVA Footbed – The Level 1 Molded EVA Footbed is extremely lightweight and highly shock-absorbant.
B3 Gel – This gel is placed in the heel and toe for ultimate dampening formulated to withstand repeated impacts without breaking down.
Aegis™ Antimicrobial Coating – Inhibits foul odors. Your feet [and your friends] will thank you.
Sole
DynoLite Outsole – Superior cushioning, improved board feel, and consistent support in a 20% lighter weight construction - made entirely of an exclusive cushioning compound specially formulated to withstand repeated impacts and freezing temps for long lasting shock absorption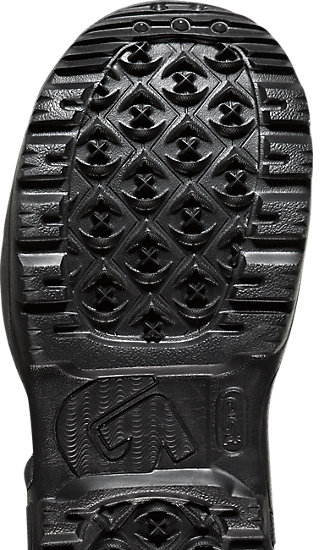 EST Optimized Soles – EST® goes beyond bindings by optimizing the soles on select boots for a more direct connection Lower-profile, lighter weight, and with a reduced ramp angle, EST lowers your center of gravity and improves feel. All without sacrificing an ounce of cushioning thanks to ultra-dampening B3 Gel inserts.
Additional Features
Snow-Proof Internal Gusset – All Burton boot tongues feature an internal gusset construction to completely seal the lower zone of the boot, keeping your feet warm and dry.