Flex
Flex Rating: 5 (1 Soft - 10 Stiff) – A little more on the soft and flexy side for easy bending and turning
Fit
Team Fit – Tailored to the needs of ThirtyTwo's pro riders around the globe.
Articulating Cuff – This advanced construction creates high-performance, smooth flexing boots that are easier to lace and more durable. There is also less shell distortion, resulting in consistent heel hold through the full flex range.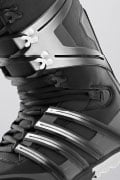 3-D Molded Tongue – 32's 3-D Molded Tongues wrap around your foot for easier lacing, improved fit and heel hold. The design also gives 32 the ability to vary the stiffness of each model for customized flex and improved responsiveness.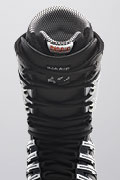 Liner
Level 2 Liner – 100% Heat Moldable Intuition Liners // Single Density Intuition Soft Touch foam for comfort, warmth & support // Internal anatomical EVA overlays in heel for optimal heel hold // External overlays for support and response // Integrated VELCRO® Brand Closure reduces bulk and pressure points.

Lacing System
Dual Boa® Lacing System – Boa® delivers an unequaled, glove-like fit with highly durable aircraft grade stainless laces and uniform closure. Snowboarders turn to Boa® for its micro-sustainability and on-the-fly turnability offered by no other closure system. Backed by an ironclad lifetime guarantee, Boa® proves that high performance and superb comfort can co-exist. With Dual Boa®, you have separate dials for the upper and lower zones of the boot.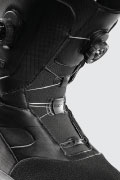 Footbed
Level 2 Footbed – Molded Ortholite provides spring-back technology, retaining 95% of its thickness over time. // Lightweight providing optimum performance // Foam contains recycled rubber powder to TR32D LIGHTLY. // Mesh topsheet for comfort

Sole
Rubber outsole with EVA cushioning