Flex
Medium Flex – The perfect combination of playfulness and power. This medium flex gives you the power you need for freeriding and the flexibility you want for freestyle.
Underwrap Heel Hoop – Rome's Underwrap Heel Hoop feature helps the binding flex without taking away responsiveness. In exchange, you get easy turns from a better binding-to-board connectivity.
Baseplate
SubBase Pad – Partnered with the baseplate, the 3D profile of the EVA and rubber sub-base pad fills the lifted corners of the baseplate, creating cushioning for the smoothest side-to-side flex while allowing for a dampening barrier between the baseplate and topsheet.
SF Baseplate – Rome's flowing, powerful and durable baseplate design that is made out of short-fiberglass and nylon.
Highback
Strut Highback – The Strut Highback has an asymmetrical fit designed for a women's calf; this construction supports powerful riders.
Highback Rotation Feature – This feature allows you to choose a highback position according to your stance and riding style.
Straps
OpenForm Toe Strap – This lightweight strap grabs the bottom and top of the boot for maximum hold and stability with minimal pressure and open coverage.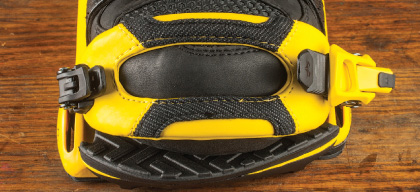 Auto Strap – Rome's signature idea using an elastic band to hold the ankle straps out of the footbed until you are ready to strap in.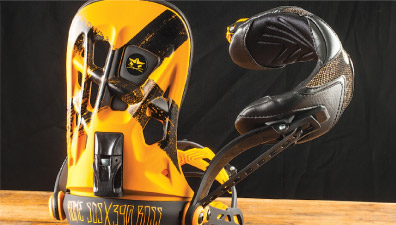 Contour Ankle Strap – The support and comfort of Rome's Contour Ankle Strap is unmatched by any other and solidifies its versatility in flex for all types of shred. New temperature-resistant materials enhance the fit and comfort.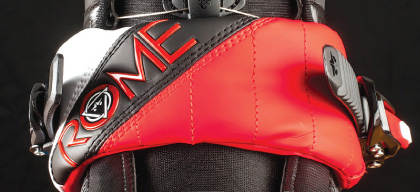 Additional Features
Quicktech Package – Rome's Quicktech bindings have tool-free strap adjustments and forward lean.