Flex
3 Flex – On a scale from 1 to 10, these bindings offer a softer flex and feel for all mountain riding and progression.
Baseplate
Aluminum Foundation™ Chassis System – A versatile, all around mid-flex performance chassis with fully customizable fit and adjustable heel cup. Made with 100% aircraft grade 6061 aluminum alloy to deliver unsurpassed durability, quality, and performance, for the advancing rider. Wedgie™ Footbed – An ultra-light footbed that uses subtle angle to align the ankles and knees to a more natural and comfortable position. The angle also gives leverage to press the board for huge pop, without affecting your preferred stance width. Ideal for riders looking for added control and pop.
EVA Basepad – A sheer layer of vibration absorbing material that deadens high-speed chatter.
Response™ Disk – Made with forged Aluminum for maximum durability. Multi-compatible 2-slot design mounts on both 4-hole and 3-hold patters and Grip-Tooth washers provide bomber locking power.
Highback
FlexLight™ Jr. Highback – Built for up and coming groms, this highback is shaped for added control, comfort, and support.
Straps
RAD™ Ankle Strap – Featuring a clean design with a high-end look, built for comfort and performance. Pre-curved 3D shaping and multi-density padding provides even pressure distribution over the instep for the best in control and comfort. All Ride ankle straps include the easy-to-use flip lever centering adjust.
ThinGrip™ Toe Strap – A convertible toe strap with a lightweight, over-molded rubber web for super snug boot grip. All Ride toe straps feature the easy-to-use flip lever centering adjust.
Additional Features
AstroGlyde™ CP Rachets – A quality rachet built with super-tough composite construction. The AstroGlyde™ rachet is engineered to offer super smooth cranking power and buttery release, featuring 4 clicks per throw.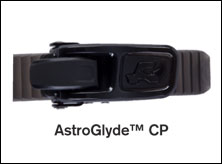 Adjustable heel cup