Flex
5 Flex – On a scale from 1 to 10, these bindings offer a medium amount of control for a wide range of riding options, especially in freestyle terrain.
Baseplate
Wedgie™ 2.5 and 4.0 Footbeds – Ultra lightweight, canted footbeds with ankle and knee alignments.
Urethane Rollbar™ – The basepad is injected with urethane, for extra dampening and shock absorption.
Aluminum Infinity™ Chassis – A lightweight reduced footprint chassis. Built with 100% aircraft grade 6061 aluminum alloy delivering unsurpassed durability, quality and performance for charging riders.
Highback
Slimeback™ Highback – Drawn from Ride's proprietary Slimewalls® snowboard technology, the Slimeback™ features a smooth-riding material that provides fluid support in all riding conditions.
Straps
3D Thingrip™ Toe Strap – An over-molded rubber web for super snug boot grip, offering the max in support and response
AstroGlyde™ LT Ratchet – Innovative minimalist lever design that is engineered for superior cranking power and buttery release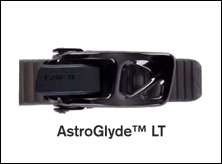 FlipSide™ Mount Strap – Holds the ankle strap out of the way when you're getting into your bindings. Easy!
ThinFlex™ Ankle Strap – Comfortable, asymmetrically contoured pad-less strap giving you added lateral support.
Additional Features
Forged Aluminum Micro-Disc – Built for binding flex and performance, this disc is 30% lighter than normal discs and fits 2x4 patterns as well as slot/channel boards.
Adjustable Heelcup – Control the way your heelcup feels for ultimate fine tuning control.