Flex
6/10 Flex Rating – A medium-stiff flex that offers quick response when cruising down groomers and deep snow.
Baseplate
Cinch™ C2 Chassis – Reinforced nylon baseplate with responsive aluminum heelcup // Lightweight cored side rails // Tool-less power ramp

Multi Compatible & Offset Disc – Two slot design mounts on 4-hole and 3-hole patterns. // Align slots tip-tail for 4-hole // Align slots toe-heel for 3-hole // Powerhold washers provide bomber locking power. // Offset slots allow for toe-heel centering by rotating it 180 degrees.
Canted Seamless EVA Footbed – Angled inward at 3 degrees for a natural leg stance during riding. Added support on the outside of foot provides improved control and better pop. The poly-carbonate tool-less Pop Top Disc Cover makes it easy to access the disc mount and screws while preventing snow-build up.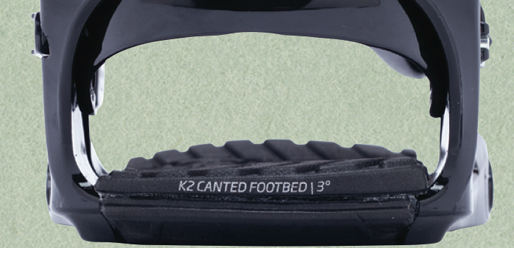 Harshmellow™ Shockpads – Harshmellow's vibration dampening properties are placed in the heel and toe of the binding to absorb chatter and suck up sudden impact from flat landings to tough terrain.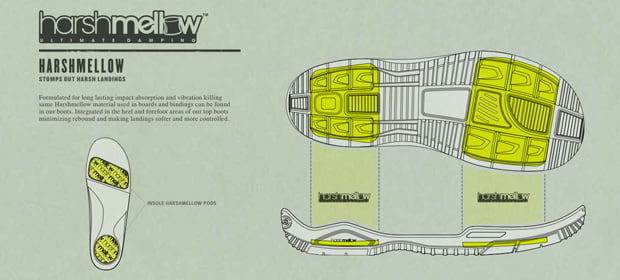 Power Ramp – Tool-less adjustment // Integrated with full seamless footbed
Highback
Cinch™ Airlock – Center Spine for heel-side response // Forgiving side-to-side flex // Thermo-formed EVA calfpad // Tool-less forward lean
Airlock™ Technology – Feather light, seamless energy transfer, and buttery smooth flex, Airlock highbacks eliminate the need for traditional forward lean components to create a more simple and lightweight highback.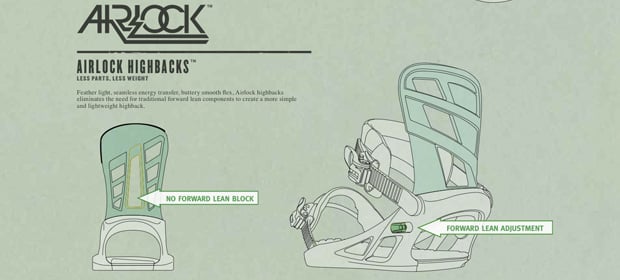 Straps
Thin Cored Caddie – Ultra-thin, lightweight construction for high performance comfort // Durable PU laminates
Cam Lock - Center Adjusting – Tool-less and secure adjustment allows you to precisely center your straps with ease and speed
Tool-Less Universal Toe Strap – Wear it over the toe or on top of your boot // Cored for a lightweight and secure fit over the toe // Tool-less cam-lock adjust
Ultra RADchet – Aluminum lever // Lightweight one arm design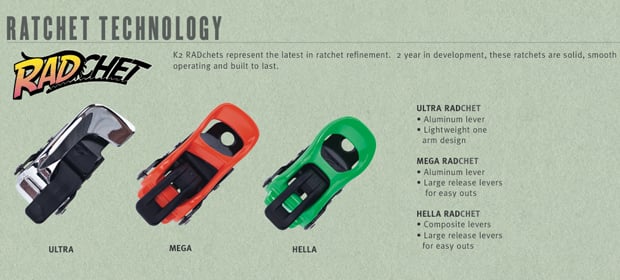 Friction Housing
Additional Features
K2's Cinch Technology™ – Superior engineering, innovation and progression at its finest, Cinch Technology™ offers riders the response and performance of K2's traditional strap bindings plus on-the-fly convenience.