Flex
Stiffness: 5/10 – Stiff and responsive: a great freeride flex that offers great control
Lightness: 3/5 – Lighter bindings help reduce fatigue allowing you to ride longer.
Baseplate
Ultima Base – The new hybrid footbed features DECK Sensors and Edges Sensors for variable canting options. The foam has a softer instep, allowing your boot to compress into it as needed for your preferred stance. The small amount of tilt adds more power to the nose and tail, allowing the rider to get more pop out of the board, boot bigger ollies, and driver better turn to turn response.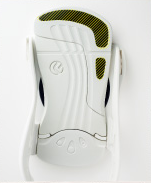 Super Blend – Thanks to a shock absorbing nylon that is mixed with a 45% glass and fiber blend, the Super Blend is rock solid and incredibly responsive. Baseplates with this blend also feature vibration dampening rotary discs built around 45% glass and fiber mixture.
Hybrid Footbed – Anatomically correct Hybrid Footbeds are ready to make love to your feet. Soft EVA sections absorb shock and minimize rider fatigue, while harder sections provide abrasion resistance and maximize support in high contact areas.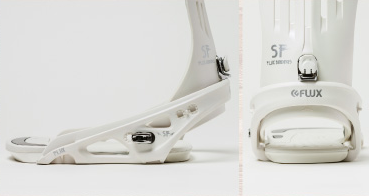 Custom Stabilizers – Urethane stabilizers in 2 densities are included to customize the ride and feel of the binding.

Adjustable toe & heel cushion
Tool-less lever
Highback
Ultima Freeride – The Ultima Freeride highback has been engineered to be even lighter than its predecessor, the Alpha highback. It has lost significant weight while gaining more durability and stability. It provides a more responsive feel by wrapping the boot and giving it a more snug fit. The combination of high speed stability and better response are what make this highback special. This highback utilizes a forward lean adjustment system that does not rely on traditional forward lean adjusters. The forward lean is customized in the contact points, thus making it possible for the highback to sit seamlessly in the heelcup of the base plate. This system provides a gapless fit between the highback and the baseplate, giving the rider direct power transfer with every turn and carve.
Super Tough Nylon – The materials make the magic. Flux's exclusive carbon and nylon blend creates an exceptionally responsive highback for aggressive riders. This blend also excels at absorbing vibrations.
Hybrid Cushion – A dual density EVA cushion on the highback also strikes the perfect balance between shock absorbing comfort and bombproof stability.
Minimum forward lean adjuster
Straps
Absolute Fit Strap FR – The shape of this strap will provide a more stable foundation for the rider. The straps are designed to provide responsiveness without compromising comfort. The shape of the strap is designed to give better hold and support.
Alpha Ratchet Buckles – Flux ratchets have gone on a diet, Flux has redesigned them for lighter weight. For an easier to use design that frozen finger friendly, the crew at Flux has also increased the angle of the buckle levers.
FTM Monocoque – To keep things light yet comfort filled, Flux's FTM Monocoque toe straps use a molded, one-piece design. By wrapping the contours of your boot, these straps minimize pressure points and maximize responsiveness.
L-Guide System – Flux's L-Guide System ensures that your ladders quickly and cleanly lock into your binding's ratchets. Plus, it keeps those pesky straps and ladders out of the way.
UU Fit – Affectionately referred to as Patent 6604746, or UU Fit for short, this design secures the ends of the Flux binding straps to the heelcup and highback. This allows the ankle strap to better transfer power and minimize pinching. Rather than simply applying a downward force on your feet, Flux's design cradles them in 360 degrees of love.