Rocker Type
Tip Rocker – An early-rise tip design. The combination of an early rise tip and a classic camber profile in the rest of the ski provides easy, smooth turn entry regardless of conditions. In softer snow the ski is incredibly forgiving, floats better, and requires less energy to ride.

Flex
Bio-Logic Flex – Völkl engineers carefully match the flex of all Bio-Logic models to work in synergy with proper stance and geometry. Stiffer in the front of the ski for quick turn initiation, and softer in the tail for easy turn exit, the Bio-Logic flex enhances flex distribution and gives the skier the ultimate in comfort and control. The new Essenza models now incorporate tip rocker in their flex patterns.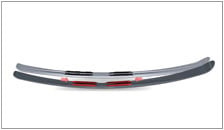 Sidecut
Bio-Logic Sidecut – Bio-Logic sidecut shapes are wider in the tip, and narrower in the tail than unisex skis, featuring a specific, progressive design that has a tighter radius in the front of the ski and a longer radius toward the tail. The narrower tail allows the skier to finish the turn with less effort, reducing the load on the knees. Rocker makes the overall ride smoother and more maneuverable regardless of snow conditions.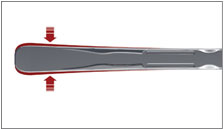 Core
Xtra-Light – In the new V-Werks and Essenza series, along with the Backcountry series, Völkl's Xtra-light wood cores are created using lighter weight Pauwlonia wood, with channels milled out of the bottom of the core. Snappy and resilient, these high tech wood cores save weight while improving performance.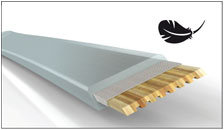 Laminates
Powered by Steel – A thin layer of steel provides excellent torsional rigidity and stability on choppy snow.
Included Bindings
4Motion 11.0 TC Essenza Bindings – DIN 3-11 / Triple Pivot Compact toe / Comfort heel
Bindings Do Not Come Mounted to Skis – Always have a certified binding technician mount and adjust your bindings.
Additional Features
Bio-Logic Stance – Bio-Logic models with rocker now utilize the profile of the ski to create a more level stance. This allows the stance to be adjusted without adding an extra spacer in the binding. Bio-Logic allows you to ski without overloading of the quad muscles, making your skiing more relaxed and enjoyable.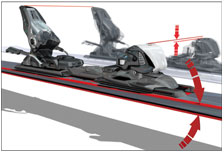 XTD Transmission – XTD Transmission follows a similar philosophy to Dual XTD Transmission, although the reinforcement is less pronounced, giving the ski a softer feel. Optimized for ambitious intermediates, the ski's construction provides plenty of power transmission, allowing the skier to rise to the next level of speed and confidence.