Rocker Type
Allride Rocker – Rocker that is equally at home on bulletproof snow as it is on powder. This profile uses early rise in the tip with regular camber throughout the rest of the ski. 20% rocker - 80% camber.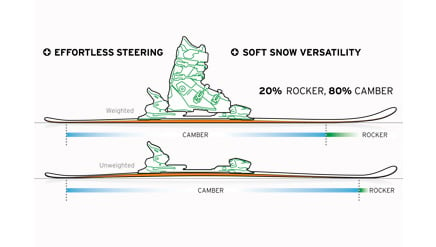 Women's Camber – A lower profile for easy turn completion and truly epic performance. A smoother flex curve and less hooking.
Sidecut
Progressive Radius – For tremendous turning. Regular rocker makes skiers place their ski further on edge to have it touch from tip-to-tail. With progressive radius, up to 50 % less angulation is needed to enjoy full edge contact. More edge on the snow = more edge grip.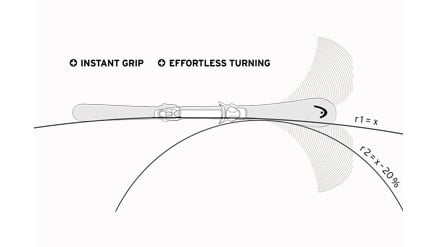 Shape
ERA 3.0 – A masterful blend of three independently important technologies to make the ultimate allcountry skis. ROCKER + RADIUS + REBOUND = ROCKER DONE RIGHT
Core
SuperLite Power Sidewall Jacket – A synthetic injected core supported with ABS sidewalls. This superlite construction thanks to GRAPHENE™ allows for a soft longitudinal flex coupled with a super responsive torsional flex, thanks to the sidewall jacket.
Laminates
LIBRA: GRAPHENE™ – An incomparably light and unbelievably strong material. Layers of GRAPHENE™, only a single atom thick, combine to make skis that flex and react intuitively to even the smallest inputs. When mixed with other lightweight materials like Koroyd and carbon, GRAPHENE™ enables weight savings of up to 350 grams.
Fiberglass
Base
Highly Transparent UHM Base – A high-density, determinedly durable base that allows gorgeous graphic details to shine through. The perfect combination of fashion and function.
Included Bindings
Bindings Do Not Come Mounted to Skis – Always have a certified binding technician mount and adjust your bindings.
Includes Joy 9 Bindings – Bindings must be mounted and adjusted prior to use.
Additional Features
Intellirise Rebound – For targeted stability. We moved our legendary piezoelectric Intellifibers to the tip of the ski. The nasty tip vibrations found on regular rockers are not found here. These skis are too smart for that.
SuperLiteRail Plates – Has a wide contact interface on the ski-- 30% wider than the LiteRail. In combination with the integrated Freeflex-Function the SLR base guarantees constant force distribution which leads to flawless control and performance without affecting the natural ski flex.