Face Fabric
DRYRIDE Durashell™ 2-Layer Fabric – This twill woven fabric features technical weatherproofing and breathable properties in a buttery soft yet bomber package. Various insulation and lining systems can be incorporated to fine-tune the overall warmth, comfort and breathability of the garmet.
Lining Material
Mapped with Taffeta Lining – This offers a crisp feel using a mix of synthetic fibers. Its unique hand feel and sheen make it ideal for printing and embossing, and like all Burton linings it wicks and breathes easy.
Fit
Sig Fit – This is Burton's tried and true cut; it's baggy, but not gigantic. At the request of their riders, Burton made the Sig Fit slightly longer for added style.
Integrated waist adjustment
Engineered Articulation
Pockets
Zippered, microfleece lined handwarmer pockets
Vents
Mesh-Lined Inner Thigh Vents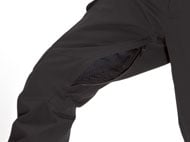 Ghetto Slits – Customize your style and your sag with this evolution to Burton's zippered pant cuffs. Set how much you want the bottom hem to open when riding without having it sneak open all the way.
Features
Fully Taped Seams – Fully taped seams keep out cold air and moisture.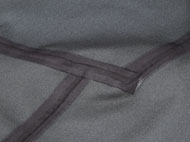 Expandable Boot Gaiter
Reinforced Hems
Jacket-to-Pant interface – Works with a looping mechanism that attaches pants to most other brand jackets
Headphone cable port
Leg Lifts™ - Keep your cuffs scuff free! No more rolling up each pant leg to steer clear of mud, pavement, or nasty restroom floors. Simply snap up each cuff and you're set.