Frame/Shock
Carbon CC Frame – Santa Cruz's highest grade CC-level carbon frame is every bit as stiff and strong as their C-level frame, but weighs about 280 grams less, due to the use of lighter, stronger, and more expensive carbon fiber. Santa Cruz is also able to truly integrate the shock mounts, pivot mounts, dropouts and disc brake tabs into the structure, using all uni-directional carbon plies. The shock mount isn't merely riveted or bonded on after curing, but is an integrated part of the fiber lay-up. This makes Santa Cruz's carbon frames incredibly strong and able to absorb impact better than any other frame they've tested.
170mm VPP® Suspension – VPP is based on the patented principle of having two short links rotating in opposite directions. This system provides huge design flexibility, allowing Santa Cruz to manipulate shock rates to the intended purpose and character of each model; from short travel endurance bikes to World Championship winning DH machines.
RockShox Super Deluxe Coil RCT Shock – Solid Threshold adjustment for pedaling performance, compression adjustment to fine tune the ride to any trail and condition, the unmistakable feel of a coil spring and RockShox's Super Deluxe design. A unique blend that's now a reality, to push the benefits of coil shock to bold new places.
Shock Adjustments – External Rebound | Compression (Fine + Open/Pedal/Lock) | Air Spring
Internal Carbon Tubes – Ensure precise and hassle-free routing of derailleur and seat post cables.
Single Grease Port on Lower Link – Swift and easy maintenance.
Bottle Cage Mount – Within the front triangle, fits piggyback shocks.
Bolt-On Shuttle Guard/Downtube Protector + Shock Fender – To ward off wayward rocks and the sandpaper effect of tailgate transport. The integrated fender works to keep crud out of the suspension.
Forged Upper and Lower Links
Internal Brake and Dropper Cable Routing
ISCG-05 Tabs for Chainguide Compatibility
Double Sealed Pivots for Long Bearing Life
Angular Contact Bearings Maximize Stiffness
Recessed Lower Link Protected from Rock Strikes
Collet Axle Pivots Lock In Place Without Pinch Bolts
Molded Rubber Swingarm and Downtube Protection
Fork
Fox 36 Float Performance Elite – Performance Elite forks retain the same adjustments, dampers, weight, and 7000 series aluminum upper tubes as Factory Series, but have black anodized upper tubes instead of Genuine Kashima Coat.
Fork Adjustments – FIT4 3-Position Lever Adjust (Open, Medium, Firm), Open Mode Adjust (22 Clicks), Rebound, Air Spring Pressure
Drive Train
SRAM X01 Eagle™ – The X01 Eagle™ drivetrain signals an exciting new era of freedom and the next level of uncompromising performance for enduro racers and aggressive trail riders. Watching the world's best racers use their parts to battle against nature, physics and time itself, has inspired SRAM to supply them with the most advanced tools we can develop. X01 Eagle™ takes everything you love about SRAM's pioneering 1x drivetrains and increases its wear life, toughness, precision, smooth and silent operation. Add to that the 10- to 50-tooth, 12-speed, Eagle™ cassette, and you have a range of gears that gives you the freedom to enjoy the benefit of 1x in any terrain, any location and at any speed. X01 Eagle™ is drivetrain freedom—how you exploit it is up to you.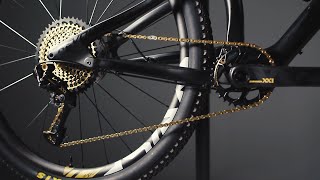 Brakes
SRAM Code RSC Brakeset – Code RSC is built from the elements that made Guide a benchmark in contemporary brake design and performance, and delivers an extra 15% power to shine in all heavy duty applications. SwingLink™ and Lever Pivot Bearings ensure a smooth and progressive feel at the lever, while the additional 30% positive fluid volume ensures consistent performance even when braking harder, more frequently or with a heavier mass to slow down.
Avid Centerline Rotors – The new Centerline Rotor was designed to keep the center of friction consistent throughout rotation thereby minimizing vibration offering consistent performance and a quiet ride.
Wheel Set
Santa Cruz Reserve 30 Carbon Wheels – Whether it's a sunset lap with friends or a race run against the clock, a broken wheel ruins any ride. SC set strength and impact resistance as their highest priority, but strength doesn't have to mean uncomfortably stiff. Their wheels are compliant enough to avoid that harsh "wooden" ride that gives some carbon rims a bad name offroad. Santa Cruz only makes offroad bikes, so they have the privilege of being able to focus purely on the mountain bike experience. Everything from the thickness of rim beads to external spoke hole reinforcements comes purely from their experience of knowing what riders need at every level—from international racing to your local trails.
Maxxis Minion DHF Front Tire – The Minion DHF was designed for the often loose and muddy conditions of aggressive all-mountain terrain. The DHF incorporates ramped knobs for low rolling resistance and channel-cut knobs to increase gripping edges, giving straight-line control and precise cornering.
Maxxis Minion DHR II Rear Tire – With side knobs borrowed from the legendary Minion DHF, but widened to provide more support, the DHR II corners like no other. The center tread features ramped leading edges to improve acceleration and sipes to create a smooth transition when leaning the bike. Paddle-like knobs on the center tread dig in under hard braking and help keep the bike under control. Pair it with a Minion DHF up front for the ultimate aggressive trail riding tire combo!